Here is a list of the best movesets for the most popular VGC 2017 Pokemon in order of use.
I made this list so you can look over it and either have an idea of what to use or what you might be up against.
For a more in depth guide check out our 
Pokemon moveset forum
.

1. VGC Celesteela Moveset
---
Celesteela @ Leftovers  
Ability: Beast Boost  
EVs: 228 HP / 4 Def / 148 SpA / 124 SpD / 4 Spe  
Quiet Nature  
- Leech Seed  
- Heavy Slam  
- Flash Cannon 
- Substitute  

2. VGC Marowak-Alola Moveset
---
Marowak-Alola @ Thick Club  
Ability: Lightning Rod  
EVs: 252 HP / 252 Atk / 4 SpD  
Brave Nature  
- Shadow Bone  
- Flare Blitz  
- Protect  
- Bonemerang

3. VGC Tapu Lele Moveset
---
Tapu Lele @ Life Orb 
Ability: Psychic Surge  
EVs: 4 HP / 252 SpA / 252 Spe  
Modest Nature  
IVs: 0 Atk  
- Psychic  
- Moonblast  
- Dazzling Gleam  
- Protect  

4. VGC Tapu Koko Moveset
---
Tapu Koko @ Life Orb  
Ability: Electric Surge  
EVs: 4 HP / 252 SpA / 252 Spe  
Timid Nature  
IVs: 0 Atk  
- Dazzling Gleam  
- Protect  
- Thunderbolt  
- Discharge  

5. VGC Garchomp Moveset
---
Garchomp @ Focus Sash  
Ability: Rough Skin  
EVs: 252 Atk / 4 SpD / 252 Spe  
Jolly Nature  
- Earthquake  
- Dragon Claw  
- Protect  
- Rock Slide  

6. VGC Gyarados Moveset
---
Gyarados @ Waterium Z  
Ability: Intimidate  
EVs: 4 HP / 252 Atk / 252 Spe  
Jolly Nature  
- Waterfall  
- Protect  
- Dragon Dance  
- Ice Fang

7. VGC Arcanine Moveset
---
Arcanine @ Sitrus Berry  
Ability: Intimidate  
EVs: 252 HP / 4 SpD / 252 Spe  
Timid Nature  
IVs: 0 Atk  
- Protect  
- Snarl  
- Will-O-Wisp  
- Flamethrower  

8. VGC Porygon 2 Moveset
---
Porygon2 @ Eviolite  
Ability: Download  
EVs: 252 HP / 252 SpA / 4 SpD  
Relaxed Nature  
IVs: 0 Atk / 0 Spe  
- Trick Room  
- Recover  
- Tri Attack  
- Ice Beam  

9. VGC Tapu Bulu Moveset
---
Tapu Bulu @ Grassium Z  
Ability: Grassy Surge  
EVs: 252 HP / 252 Atk / 4 SpD  
Adamant Nature  
- Wood Hammer  
- Protect  
- Horn Leech  
- Superpower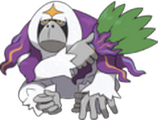 10. VGC Oranguru Moveset
---
Oranguru @ Sitrus Berry  
Ability: Telepathy  
EVs: 252 HP / 4 SpA / 252 SpD  
Sassy Nature  
IVs: 0 Atk / 0 Spe  
- Instruct  
- Trick Room  
- Protect  
- Psychic  

11. VGC Xurkitree Moveset
---
Xurkitree @ Choice Scarf  
Ability: Beast Boost  
EVs: 4 HP / 252 SpA / 252 Spe  
Modest Nature  
IVs: 0 Atk  
- Thunderbolt  
- Dazzling Gleam
- Discharge  
- Energy Ball  


12. VGC Kartana Moveset
---
Kartana @ Focus Sash  
Ability: Beast Boost  
EVs: 4 HP / 252 Atk / 252 Spe  
Jolly Nature  
- Leaf Blade  
- Smart Strike  
- Sacred Sword  
- Protect  
All information based on statistical output from
smogon.com