Hey, everybody!
It's 0kamii
, and yes you read that right. I'm taking battle requests for the first time!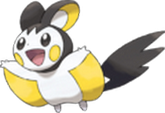 Please keep in mind that by posting this,
I'm opening my team up to battle and merriment, NOT scrutiny
. My intention is to battle and have fun show casing an unorthorodox team, not to try and flaunt my prowess in battle just becuase I won a tournament and I suddenly think I'm the bee's knees. Yeah, no. If that's what y'alls think, then clearly you guys don't know me well enough yet.
Yes, I won a tournament with this team, but it's far from perfect
. Also, and I know this should go without saying, but
please try not to analyze my team through the post I made about it
. That's not strategy, that's cheating.

Just so you all know, myself and the rest of
Amethyst
0
mega
are still planning our first giveaway, but
we've come across a small hiccup
. While we sort that out, hopefully you can all forgive me with this little distraction.
I'll be online today after 4:00pm EST
. Send me battle requests then and we'll get started! I'll also update this post with some of my favorite skirmishes. My FC is to the left. Leave yours below with your battle invitation.
I hope we all have a blast! Read you all soon, and let's get battling!
- 0kamii
Amethyst
Ω
mega

- Guild Leader/Founder