Jan 9, 2018, 02:37 PM (This post was last modified: Jan 9, 2018, 02:40 PM by TheAlmightySancho.)
I'm Sure This Was Dearly Missed
I've decided to create episode 2 of the mildly popular(?) 'What are We All Playing?' thread from a while back. Because some of us change our preferences over the course of 10 minutes. As threadmaker, I reserve first brag say. And...you know...it would be a short thread otherwise.

Also, since this is 

other

 game discussion I won't talk a bunch about Pokemon Ultra Moon and how I want to finsh my 'dex but can't be bothered to finish my 'dex.



1: ARK: Survival Evolved
And I'll just casually tag @0kamii here for obvious reasons...
Specifically the newest expansion, 'Aberration'. It's a complete, fresh change to the normal atmosphere and systems of ARK and it has to be my favourite map yet. ARK is a survival game which is meant to be played in a MMO style but can also be done singleplayer or in small groups. You're on an island/blazing desert/aberration full of dinosaurs and other prehistoric creatures. On the surface it's just a survival game with dinosaurs, but deep in the

juicy lore 

there's alien-theories, time travel and mutant-tentacle-men. Uh, yeah. ARKs are the name of these worlds and they're actually space stations built by either aliens or humans to test species' capabilities. Aberration is set on a broken ARK full of radiation where you live underground. Everything is mutated, there's 'shrooms all over and the whole atmosphere is creepy and awe-inspiring at the same time. In my time I've built a house, then a snake the size of a house ate said house, then I rebuilt the house, then I finally made progress.

I'd quite like to tame a Reaper since they're the apex predator but after finding out how one goes about this I'd rather not delve into horrible radiation to fight a house-sized xenomorph and then after 9 hours birth my new best friend forcefully out of my chest cavity. Never thought I'd have to say those words

Since the trailer had no narration, I've got much better stuff to offer as a good teaser.


Small picture, but that's the teaser dossier for the boss. The 'writing' all over the left side is 'alien' language. It translates into the following:
"I am not a god. I am more than that. Infinitely more. I am everything. This world, this ARK, it is my body. "
"I can feel every bit of it, every footstep of man or beast that falls upon my skin, and every root that digs into my flesh. They are all mine. Everything in this world happens only by my will. "
"The ones who put me here have long since fled, but though I hate them, I accept their escape. It is their reward, for they placed me upon this throne. "
"Yet should anyone else challenge me, they shall receive no mercy. My wrath will be swift and terrible, and my enemies will know only pain. I am everything. "
Ok, I'm done on Aberration for now. I've beaten the boss and I won't spoil that much.
2: Shadow of War
This is the only other thing I've really been playing much of. It's the sequel to Shadow of Mordor. They're both games about the times before Lord of The Rings and The Hobbit and even before Sauron turned into a firey eyeball on a tower. In both games you play as a human ranger from Gondor called Talion. In the first game's opening you, your wife and your son get killed by a lovely fellow called 'The Black Hand of Sauron' and then Talion ends up bound to the wraith of the elf that created most of Sauron's non-one-ring rings. Confused? Good.
They're actually kind of groundbreaking RPGs. They both employ their custom-made 'Nemesis System', which has orc captains which different strengths and weaknesses which go through power struggles and other feats and ultimately rise and fall and clobber you over the head for being bad at the game. I'd recommend going and reading about the mechanics, they're quite something.
In Shadow of War you forge a second copy of The One Ring to create your own army and conquer Mordor and then kill Sauron. It's a fun process and I've been enjoying ransacking useless castles and stuff for a couple weeks now. Except this one captain called "Kuga Cave-Rat" who killed me twice in a row (you come back a week later) and ultimately got mega-promoted. I finally got his famsquad to betray him and killed him, and then 2 minutes later he came back again wearing a mask and was "Kuga The Survivor". Naturally I wanted to enslave his mind and add him to my army but he was too high-level so I 'shamed' him to lower his level. The game decided to mock me and instead he turned into a mumbling maniac and went up to level 33. I was level 17...
Still, I hunted him, he killed me. Still, I hunted him, he was 
this close
 to killing me when my own mumbling maniac bounced into town and decapitated him before giggling to himself and jumping into the nearest shrubbery.
Seriously, the game's amazing. There's trolls who are all Russian, stereotypical drunk Scottish orcs and generally mayhem incarnate. For now, take a moment to enjoy the most beautiful sight in the entire universe: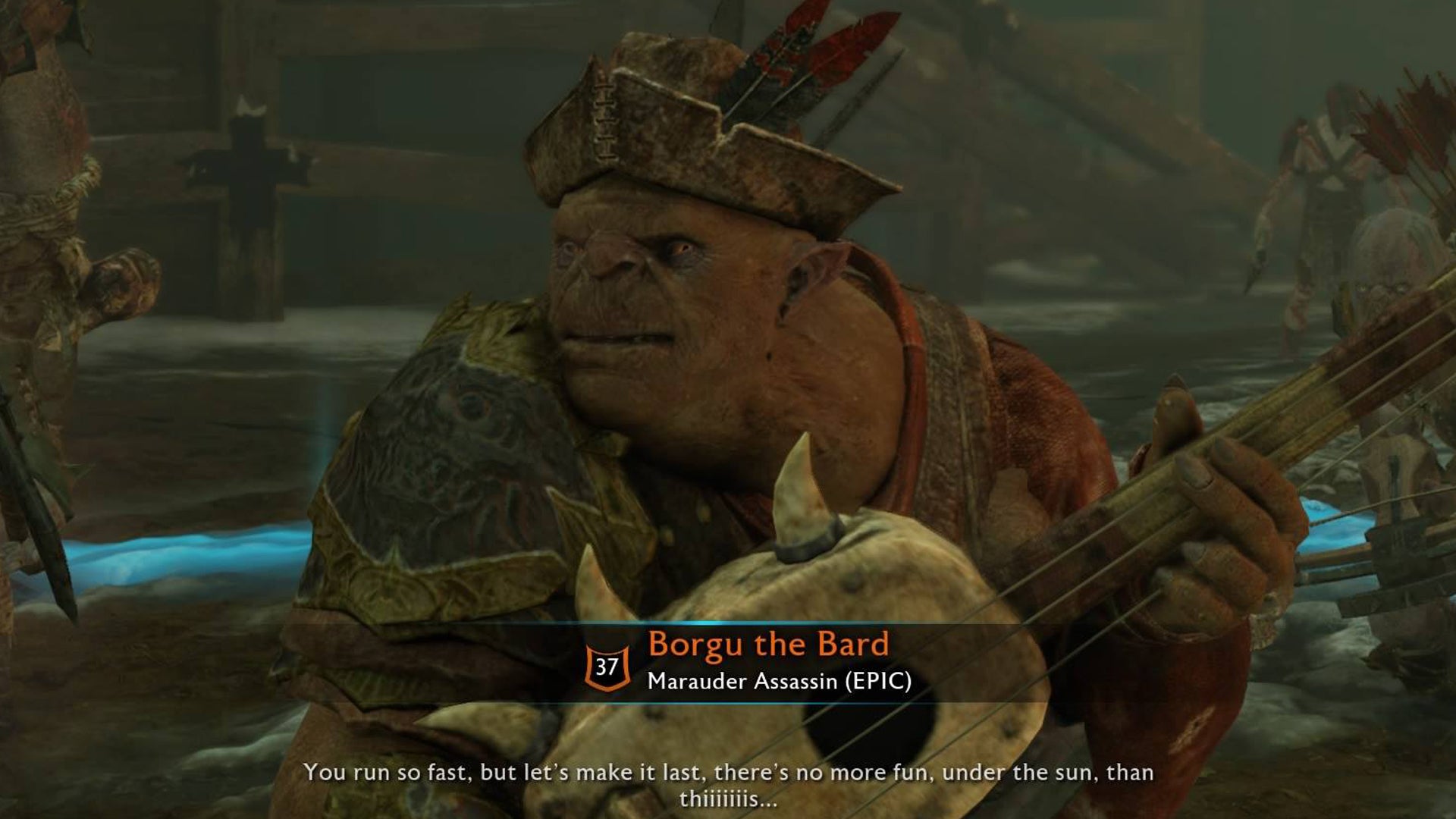 Have fun discussing stuff. I have studies to be doing, and also sleep. At least 5 hours, hopefully.