Dec 10, 2016, 07:51 PM (This post was last modified: Dec 10, 2016, 07:56 PM by TrainerDerek.)
Just for some backround on my experiance when giving advice, I have played at Nationals multiple times with positive record, top cut at about 80% of the events I play in anymore, often against Worlds level players, but never seem to get the finish. I have won 1 PC. 
Well the London International is happening and were getting better ideas of how things are looking. I had a local at Kent State University and absorbed as much as I could before the tournament on December 3rd. It was a mix of players from the local league and the usual big players I always run into like Ashton Cox and Jeremy Rodrigues. I finished 3-2 and knocked out of the first round of Top 8 by Torkal/Orangu/Last Resort Lucario/ Z-Destiny Bond Gengar shinanigans that ended up winning the whole thing. So I felt pretty good about the overall day but it's time to look back and see what could be better. Let's look at the Pokemon. 

Tapu Bulu @ Grassium Z  
Ability: Grassy Surge  
Level: 50  
EVs: 252 HP / 252 Atk / 4 Def  
Brave Nature  
- Wood Hammer  
- Superpower  
- Leech Seed  
- Protect  
Bulu did what Bulu did. Hit em hard and being as early as it was, surprised a few people with Grassium Z for easy KO's. Not really worried about him, but I will be changing Leech Seed to Horn Leach because I missed that move somehow.

Marowak-Alola @ Thick Club  
Ability: Lightning Rod  
Level: 50  
EVs: 252 HP / 184 Atk / 4 Def / 68 SpD  
Adament Nature  
- Flare Blitz  
- Shadow Bone  
- Bonemerang  
- Protect  
Marowak was a Pokemon that ended up being a lot less useful in real action. Yea he would come out and smash some heads in but I often found myself holding him in the back hoping to clean up and losing him quick if he had to come out early. Def not the Star I thought he would be. I wanted to breed for Brave and 0 Speed but ran out of time and went with this.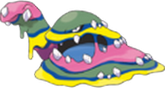 Muk-Alola @ Black Sludge  
Ability: Poison Touch  
Level: 50  
EVs: 252 HP / 252 Atk / 4 SpD  
Brave Nature  
- Poison Jab  
- Knock Off  
- Shadow Sneak  
- Protect  
Another used less then expected Pokemon. Muk just never felt needed in a match and the one or two times I did bring him, he never got much done. His role should be obvious. Hit hard, stick around, pressure tapus. 

Porygon2 @ Eviolite  
Ability: Download  
Level: 50  
EVs: 252 HP / 140 Def / 116 SpD  
Relaxed Nature  
IVs: 0 Atk / 0 Spe  
- Tri Attack  
- Ice Beam  
- Trick Room  
- Recover  
Porygon 2 came to every single game and lived through just about all of them. He was able to hit hard enough, survive a ton, and set up trick room when it was needed just fine. 

Araquanid @ Sitrus Berry  
Ability: Water Bubble  
Level: 50  
EVs: 252 HP / 252 Atk / 4 Def  
Brave Nature  
- Leech Life  
- Liquidation  
- Wide Guard  
- Protect  
I dare call Araquanid the MVP of the day. His bulk help up more then I hoped for, his liqudations hit hard, wide guard came in handy a few times and he came to just about every round. Sadley he was NOT enough to take down Torkal in the sun. 

Celesteela @ Leftovers  
Ability: Beast Boost  
Level: 50  
EVs: 252 HP / 140 Def / 116 SpD  
Sassy Nature  
IVs: 0 Spe  
- Heavy Slam  
- Leech Seed  
- Substitute  
- Protect  
Celesteela was used less then I hoped for. Heavy slam just didn't seem to be hitting as hard as I thought it would. At the same time I was nervous about setting up and not being offense so I never did get the Leech Seed Sub going at the same time which I imagine would have helped a ton. I played against a special one I thought was a bit better but I'm torn on how to run this guy for now.
So there we go. What do you think could be improved. My favorite part of VGC is team discussion. Pokemon I'm intrested in trying are Mimikyu, Politoad, Mudsdale, and Garchomp but I'm having synergy issues changing anything in my head. 
BONUS POINTS: One of the most fun battles I ever had took place in Round 5 Game 3. H4HG-WWWW-WWW2-H2UT