[VGC 2017] Pheromosa - Mixed Attacker Movesets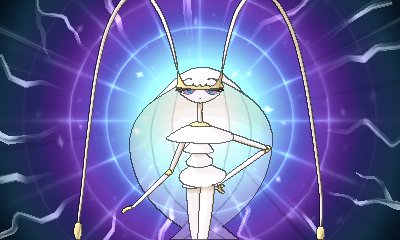 As one of the seven Ultra Beast to reign in the VGC 17 scene, Pheromosa stands out as the glass cannon and for good reason. Despite the abysmal defensive stats and somewhat lacking coverage options, Pheromosa is one of the most threatening frail sweepers in the format given its high base Fighting-type coverage, respectively high offensive attacks, and an 151 speed stat to basically outspeed everything in the format that's not naturally boosted. Coverage options like Ice Beam, Poison Jab, or even a Z-Fighting move allow Pheromosa to threaten most of the common Pokemon such as the Tapus, Porygon2, Garchomp, Kartana, etc. Given its unique stat distribution, Pheromosa can raise either its attack, special attack, or speed stat with a potential Beast Boost and make it far threatening than it is. Despite its high offensive capabilities, this Ultra Beast has paper thin defenses to which any strong neutral or super effective option will squash this bug. Even with its low defenses, do not underestimate Pheromosa offensive potential as it certainly has the high damage output and speed necessary to clean thru unprepared teams.   
---
Pheromosa

Type:


Base Stats:
 71 HP / 137 Attack / 37 Defense /  137 Special Attack / 37 Special Defense / 151 Speed
Weaknesses:

[x4] ,

[x2] ,

[x2] ,

[x2]
Resistances:

 [x0.5],

 [x0.5],

[x0.5],

[0.5x],

[0.5x]
Immune To:
None
Ability: Beast Boost
  - Raises the highest stat by one stage. If equal, the "next" stat is boosted by this sequence: [Atk, Def, SpA, SpD, Spe].  
---
Physically Mixed Attacker

Pheromosa @ Life Orb / Focus Sash / Fightinium Z
Ability: Beast Boost  
Level: 50  
EVs: 4 HP / 252 Atk / 252 Spe  
Adamant / Naughty Nature  
- High Jump Kick  
- Poison Jab  
- Ice Beam / U-Turn
- Protect
Milestones
:
- OHKOs 4 HP Tapu Lele / Koko and 252 HP 4 Def Tapu Bulu with Poison Jab
- OHKOs most Garchomp with Life Orb Ice Beam (not AV, Sash, Yache)
- Outspeed Tapu Koko and Aerodactyl
- Z High Jump Kick OHKOs max defense Porygon2
When using Pheromosa, the goal is to apply offensive pressure with its high base speed, and coverage options against some of the common Pokemon in the format. Given Pheromosa's lack of defensive potential, Life Orb is a great item to boost its main attacks to ensure the OHKOs on key targets. One example is Life Orb Adamant Pheromosa can knock out frail Tapu Koko, Lele, and Bulu in one go while do about over have to a defensive Fini. Life Orb High Jump Kick from Pheromosa is one of the strongest Fighting-type attacks in the game given few Pokemon take it well aside resisted targets, though the player must call whether the opponent protects as the Ultra Beast will suffer 50% recoil. The reason for having High Jump Kick on a mon like Pheromosa is to OHKO common Normal-types such as Eviolite Porygon2 to prevent the potential Trick Room or Snorlax before they setup. If Pheromosa wants a potential nuke, then it can run Z-High Jump Kick to OHKO a plethora of targets, including a fully Defensive Porygon2. 
Aside a limited Fighting-type coverage, Pheromosa doesn't have much coverage options, but has enough to make it threatening. As mentioned earlier, Poison Jab is listed to hit opposing Grass-, and Fairy-types, notably the Tapus given how extremely common they are. Ice Beam also Pheromosa go mixed to hit Grass-, Flying-, Ground-, and Dragon-type Pokemon such as Garchomp, Salamence, Aerodactyl, etc. U-Turn is Pheromosa's secondary STAB option, generally used to gain momentum in the match to switch out immediately for another partner. Even with its shallow movepool, what makes Pheromosa threatening is the potential Beast Boost in its attack stat to makes its Poison Jabs and STAB High Jump Kick a wide variety of neutral pokemon than before. If the player wants Pheromosa to withstand a fatal attack, Focus Sash allows it to take one hit, but will lose out in offensive power from Life Orb or Fightinium Z.
The following are some offensive calculations of Pheromosa's listed attacks based with the Life Orb as well as Z-High Jump Kick.
Offensive Calcs:
---

Pheromosa @ Life Orb / Focus Sash / Fightinium Z
Ability: Beast Boost  
EVs: 4 Def / 252 SpA / 252 Spe  
Modest / Rash Nature  
- Ice Beam  
- Focus Blast / High Jump Kick  
- Bug Buzz / Poison Jab / Hidden Power [Ground]
- Protect

Milestones:
- OHKOs most Porygon2 sets with Z-Focus Blast
- OHKOs most Garchomp sets, even some with AV
- OHKOs Tapu Koko with +1 HP Ground
- Outspeed Tapu Koko and Aerodactyl
One of the ways players deal with Pheromosa is thru Intimidate spam to ensure its physical attack output is significantly lowered to the point that certain Pokemon can withstand any hit from the Bug/Fighting-type. As a natural response to this, here is a special Pheromosa set which doesn't mind Intimidate spam and can still OHKO key targets with its special coverage options. Focus Blast has a somewhat shaky accuracy, but can OHKO many Normal-, Dark-, and Steel-type Pokemon who don't appreciate such an attack. Using Focus Blast as a Z-move can not only resolve its accuracy issue for one use, but can ensure Pheromosa can OHKO something like Porygon2 or Snorlax without any Intimidate support. If Focus Blast isn't your style, then High Jump Kick is an alternative, though at that point Pheromosa will likely need to be Attack Evs and a boosting item like Life Orb to ensure some OHKOs. 

Specially-Mixed Pheromosa has slightly more special attack combinations to use, but still shallow coverage at best. Ice Beam from a special Pheromosa is much stronger and hits Grass-, Flying-, Ground-, and Dragon-type Pokemon for super effective. Bug Buzz is Pheromosa's special Bug-type coverage for any Dark- and Psychic-types pestering around, though the targets Pheromosa hits with this move is rather limited. HP Ground is an interesting move which can benefit Pheromosa's Ice Beam coverage as it hits Electric-, Fire-, and Poison-type Pokemon. The only notable feat using HP Ground is at +1 with the special attack Beast Boost Pheromosa can OHKO 4 HP Tapu Koko 100% of the time. Poison Jab is the last potential option to run given how effective it is to deal with the opposing Tapu Pokemon, though it might need a neutral nature and Life Orb to ensure OHKOs. Lastly Protect is here to scout for the opponent attacks while ensuring Pheromosa can stick around for awhile longer. 
Offensive Calcs:
---
Potential Teammates
include, but aren't limited to:
Tapu Lele -

 Arguably Pheromosa's best partner-in-crime given Lele's Psychic Terrain prevents any form of priority from being used to target such a glass sweeper. In turn, Pheromosa can heavily pressure many of the Pokemon that threaten Lele such as Steel-types, Dark-types, and even the other three Tapu Pokemon. 


Fast Offensive Pokemon -

 In order for Pheromosa to maintain offensive pressure, it needs partners who are also extremely to moderately fast than most others in the format while capable of threatening many targets with their powerful STABs or Z-Move option (

Ex. Garchomp, Tapu Koko, Tapu Lele, Nihilego, Kartana etc

). 


Steel-types - Aside 

sharing a weakness in Fire-type moves, Pheromosa appreciate Steel-types given it resist the other three of Pheromosa's weakness and are usually defensive enough to withstand most hits in the format.   ( Ex.

Celesteela, Metagross, Kartana, Magnezone,

etc ) 


Defensive Pokemon 

- Generally speaking, if Pheromosa finds itself in an unfavorable matchup, it will likely switch back into defensively capable Pokemon who are bulky and  can wear down the opposing team to which the Bug/Fighting-type can pick them off later.  (

Ex. Celesteela, Gastrodon, Porygon2, Gigalith, Milotic, Snorlax, etc

).

Threats
include, but aren't limited to: 
Fire-types 

- Arcanine, Alolan Marowak, Torkoal, Talonflame, etc.


Flying-types -

Drifblim, Talonflame, Aerodactyl, Pelipper, Gyarados, Celesteela etc


Fairy-types -

Mimikyu, Tapu Fini, etc


Psychic-types

- Metagross, Tapu Lele, Oranguru, etc


Ghost-types

- Drifblim, Mimikyu, Gengar, Mismagius, Alolan Marowak. 

Any Powerful Neutral STAB or even Z-Move can OHKO Pheromosa (provide it doesn't resist).


Trick Room

 since Pheromosa is extremely frail and too fast in a Trick Room setting.  

Other Notable Options
A

Quiver Dance

set especially paired with Oricorio Pom-Pom might sound gimmicky at first, but can sweep opposing unprepared teams if Pheromosa manages to boost and attack. 

With a base 151 speed, Pheromosa can run positive speed natures like

Timid, Hasty, or Naive

to raise its speed from a Beast Boost. 

Fast

Taunt

from Pheromosa is uncommon, but effective to shut down setup options.


Speed Swap

allows Pheromosa to gift its fast speed stat to a partner Pokemon, often one who has a setup option to sweep an opposing team like Belly Drum Snorlax.


Poisonium Z 

is rarely used to ensure the Tapu Pokemon go down in one hit. 

---
Will break from the usual corny joke / send off. At this point, done about twenty-one VGC 17 Pokemon threads for the forums and many others have made their own contributions here to the moveset archives as well. All I can say is thanks for continuing to read these threads from all of us here.