Hey, everybody!

It's 0kamii

, and since the window for these kind of posts is closing, I thought it best to do this now!



Pokémon Ultra Sun

and

Pokémon Ultra Moon

are, if you can believe it, less than two weeks away from their international release! @LittleFoxS and I already pre-ordered our copies, and by this point I'm counting the days!

One thing I've noticed that I've put off though was the thought of any possible new Alolan forms

. While I think it's still unlikely that were going to get any, despite what this fabled

Riddler

claims, it's always fun to speculate about what Nintendo could possibly concoct. So I dipped around the Kanto PokéDex and chose four pokémon that I think could use a little island love. These pokémon are either already popular, or in dire need of some attention from the Pokémon Company. But hey,

they ripped Torkoal out of the gutter, so why not these guys

? Here's four of the Alolan Forms I want to see the most in

Ultra Sun and Ultra Moon

!
Most Wanted Alolan Forms in Ultra Sun/Ultra Moon?
DISCLAIMER: NONE of these Alolan Forms have been officially confirmed by Nintendo, they are all fanart that I've tastefully incorporated into my post for the sake of having a good visual reference. Enjoy the post!
1) Alolan Koffing/Weezing


I'm honestly surprised that Koffing and Weezing

DIDN'T

get an Alolan form the first time 'round. They are very memorable mons from the first generation, and I think a volcanic incarnate would make perfect sense for these two translating to Alola. Clearly, I'm not the only one that thinks so. This fanart does a good job of capturing both the Fire and Rock typings, even though it's not done in Nintendo's style. Frankly, I'd include a little more ash coming out of the plumes, but I'm still grateful to see someone else thinks a Fire/Rock Koffing would be amazing! It has to keep its Levitate ability though, two x4 weaknesses are no good. 

Another disclaimer

, I came up with all the origins for these mons myself, so if they match up with a pre-existing one, I promise it's purely coincidence. Here's what I imagine the Dex entry would say:
"

Once it found its way to Alola, the Koffing aborbed much of the volcanic gases surrounding Wela Volcano Park. By absolving the heat and the ash, Koffing gained the ability to produce its own fire. The density of the gas lets it retain its ability to levitate

."


Yet another great example of fanart that matches up perfectly to what I was thinking.

Venomoth is easily one of the least memorable Bug-Types of Gen 1

, often getting over-shadowed by the likes of Butterfree, Pinsir, and Scyther. Especially Scyther. So for Venomoth, I know it may seem odd to slap on the Electric-Type, but

I have a very good reason

! As of now, Joltik and Galvantula are the only mons in the game with the Electric/Bug typing, and I think my interpretation of this Venomoth's origin makes perfect sense! Here, have a listen to the hypothetical Rotom Dex:
"

These nocturnal creatures hunted in the darkness of the desert. Soon, their paralyzing capabilities were enhanced by the nearby power plant. Afterwards they started to glow, and produced electricity from their abdomen

."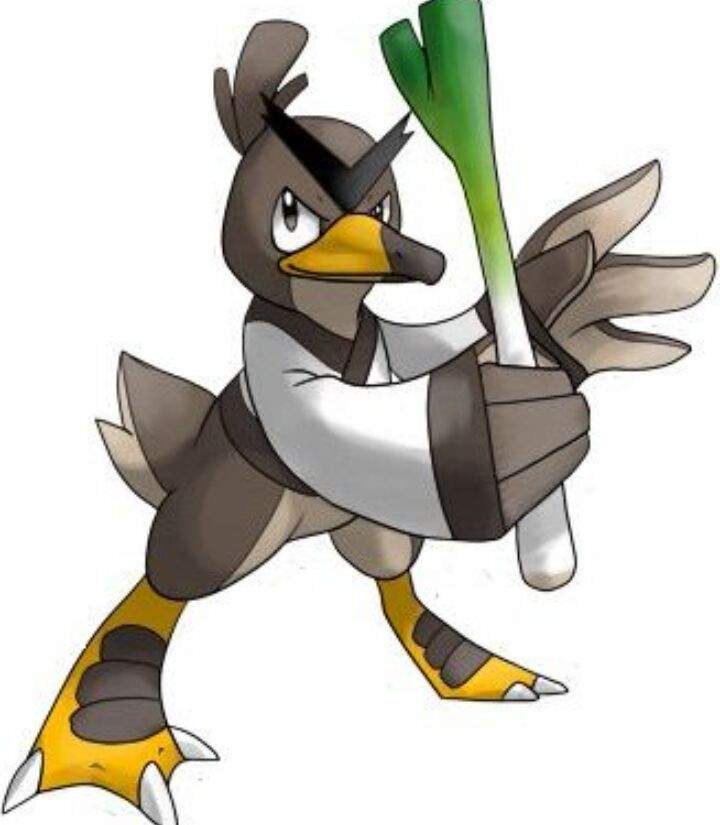 Even I'm guilty of disregarding poor poor Farfetch'd

. I even planned on Shiny hunting it because I liked the pink, but it sat on the list so long unhunted I just booted it off.

Farfetch'd is just one of those pokémon that no one takes seriously

, no matter what it does or where it shows up. But I think giving Farfetch'd a completely new look, and turning it into a Fighting/Flying-Type will finally help it be taken seriously! I'm also feeling really lucky that I found this awesome fanart! It's everything I imagine and more, minus the stalk sword. You'll find out in a second. I was reading through Farfetch'd's Dex entries for inspiration, and I noticed that it mentioned that Farfetch'd uses the stalk like a sword, so I came up with this Dex entry:
"

Constant fighting between Farfetch'd over territory sharpened them into battlehardened warriors. Their stalks have become their primary means of defense, and are utilized like a katana

."


I still can't believe how similar my thoughts were to some of these artists

! I mean, what are the odds? I honestly thought for Alolan Kingler I was going to have to just slap a picture in here of a regular Kingler and throw the Water/Steel typing beneath it and then explain why! But gees, these people are so talented! Anyway,

Alolan Krabby/Kingler probably have my favorite backstory of all the Alolan forms I've imagined

. I know that only my baby, my boy, Empoleon as the Water/Steel typing, but I'm not so insecure enough to have him lose that unique typing. Empoleon is important enough to me to stand on his own! That being said,

here's the origin for why Kingler is now a Water/Steel type

:
"

In an effort to protect itself from the native Toxapex, Kingler covered itself in the debris of sunken ships. The metal has since been absolved by the crustacean's body, turning it into a Steel-Type

."
Well, that's all for my first Saturday post

! There's going to be another one later tonight covering a very special occasion for

Amethyst

0

mega

! Thank you all so much for reading, and

don't forget to tell me which new Alolans forms YOU want to see the most

in the upcoming games! We won't have to wait long, so if there's ever a time to be hyped, it's now!

Thanks so much for reading, everyone! Battle onwards, friends!

- 0kamii
Amethyst
Ω
mega

- Guild Leader/Founder