FIRST VGC18 POST WOOT WOOOOT
 
Hey everyone, its RetroTyphlosion, and I have officially begun competing in VGC18! I'm so excited to get back into the meta, and so far, I've had incredible fun. In the spirit of last year's famed VGC17 team, and as a reusal of my favorite strategy, I present to you: RetroTyphlosion's 2018 Trick Room Team!

 



Cresselia @ Wiki Berry  
Ability: Levitate  
 Level: 50  
 EVs: 204 HP / 124 Def / 56 SpA / 124 SpD 
Quiet Nature 
IVs: 0 Atk / 0 Spe 
- Trick Room 
- Moonblast 
- Psychic 
- Ice Beam 
All right, we start off with my Cresselia. Using the Levitate ability, it is immune to Landorus's Earthquake. Its EV spread allows it to take some hits (including a Tapu Koko's Gigavolt Havoc inside Electric Terrain), and give some as well. Psychic is my main STAB move, and Moonblast kills dragons. Ice Beam provides even more coverage, and can OHKO a T-Landorus. Food for thought.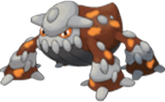 Heatran @ Firium Z  
Ability: Flash Fire
 Level: 50  
EVs: 252 HP / 252 SpA / 4 SpD
 Quiet Nature
 IVs: 0 Atk / 0 Spe
 - Heat Wave
 - Earth Power
 - Protect
 - Flash Cannon 
My team's Z-mover, Heatran's EV spread is a little more self-explanatory, as is its move-set. Essentially your standard Trick Room abuser.



Porygon2 @ Eviolite
 Ability: Download
 Level: 50
 EVs: 252 HP / 28 Def / 204 SpA / 24 SpD
 Quiet Nature
 IVs: 0 Atk / 0 Spe
 - Trick Room
 - Recover
  - Thunderbolt
 - Ice Beam  
My famed Porygon2 set has at last made an appearance!! Sporting the offensive feel, this is, in my opinion, the best possible set for a P2. 252 HP means it still eats up hits, plus has the damage to 2HKO a Zard-Y and OHKO a Landorus. Also, Recover means you can't kill it. Boom.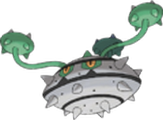 Ferrothorn @ Leftovers
 Ability: Iron Barbs
 Level: 50
 EVs: 252 HP / 252 Atk / 4 SpD  
Brave Nature
 IVs: 0 Spe
 - Power Whip
 - Gyro Ball
 - Knock Off
 - Leech Seed  
An offensive Ferrothorn. Moves provide coverage and utility, its got bulk, and its slow enough to be Trick-Room worthy. Leech Seed ensures its not going away anytime soon.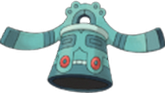 Bronzong @ Occa Berry
 Ability: Levitate
 Level: 50  EVs: 252 HP / 92 Def / 164 SpD
 Relaxed Nature
 IVs: 0 Spe
 - Trick Room
 - Gyro Ball
 - Metal Sound
 - Skill Swap  
Standard set. Not much more to say.



Araquanid @ Life Orb  
Ability: Water Bubble  
Level: 50  
EVs: 252 HP / 252 Atk / 4 Def  
Brave Nature  
- Liquidation  
- Protect  
- Toxic  
- Bug Bite  
Okay, I gotta say, I had the same Araquanid set last year, and I didn't really use it much. However, I've been using it much more now, and it doesn't dissapoint. You have no clue how much damage Liquidation does, and Bug Bite is the bane of Snorlax's existence. I LOVE IT!



And, well, yeah. There's my team. So far, its been winning quite a few battles, and I'm happy with my record so far. Please let me know of any suggestions you might make; I'm still getting used to the format, and any help and constructive critizism is very appreciated!

-RetroTyphlosion
 
 

 
VGC
|
Breeding
|
Forum Regular
|
Amethyst
0
mega
PM me if you need help with competitive battling!