Wot In Liquidation: A VGC 2017 Team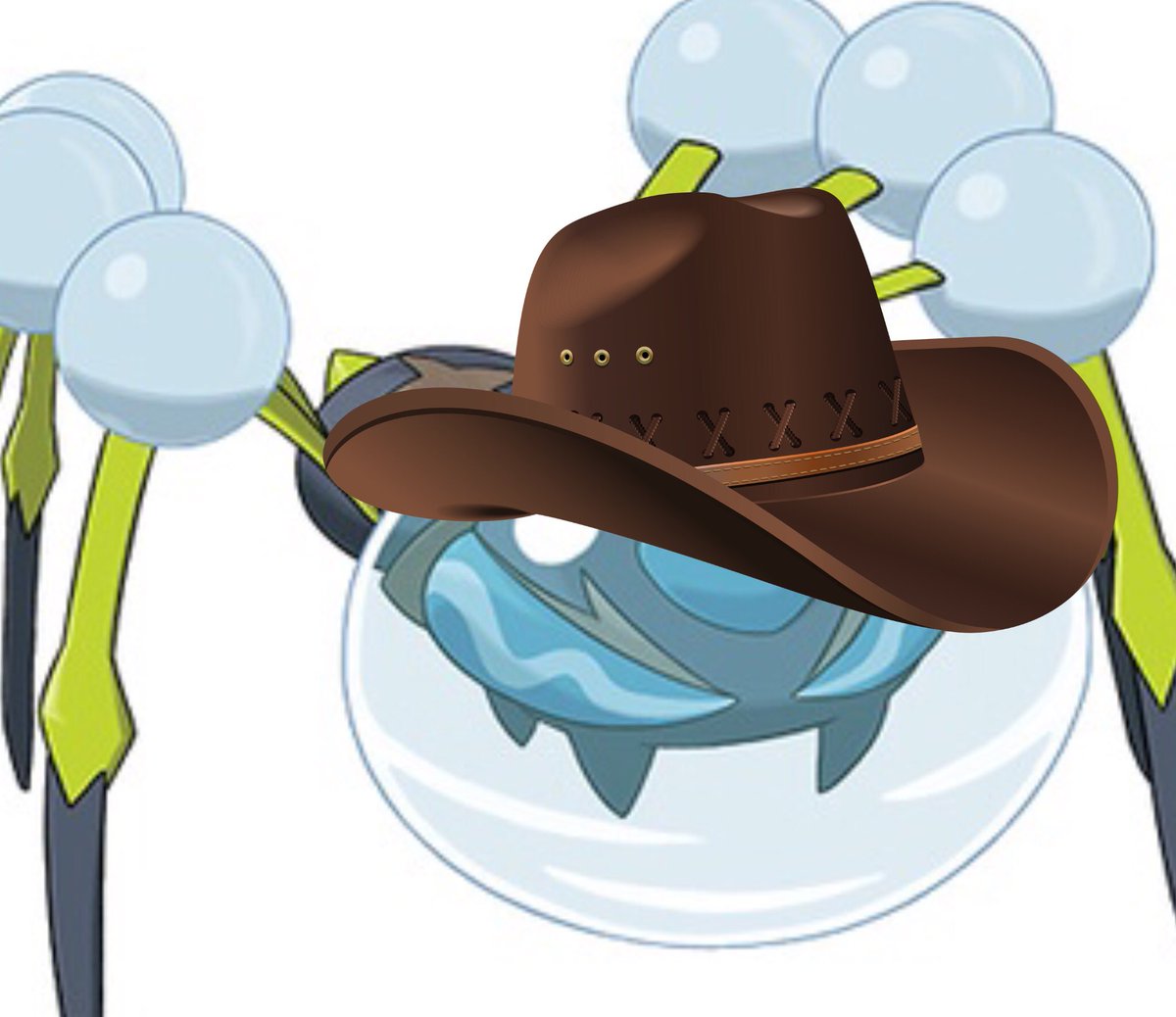 Image by 
PrincePrimarina
Its been a long time since I've posted an RMT in the forums... (yeah I know somewhere there's a joke), but given the fact I've been playing much in the past few weeks and coming off from a hiatus is understandable. For sometime I was  teambuilding around the already well-established Porygon2 and Araquanid core, and before I noticed that I did happen to make kind of the same regional winning team (on accident), but with my own spin to it. Guess if anyone is pissy about credit, its "team" was built originally by Paul Chewa, a long time VGC player slash arch nemesis of Cybertron (i dunno... guess there's a storyline there). Did tried out his team on Battle Spot WCS, or the actual VGC Ladder and on PS and got moderately high, but I know I can do better. Well all I can say is, its bath time. 
---
Background



First off, the main basis of the team was centered around a Trick Room mode with the infamous Porygon2 and Araquanid pairing as its honestly one of the best and most "successful" core in the early VGC 17 format. Like, what can I say, Porygon2 setups the Trick Room and Araquanid attempt to sweep or breakdown team with Water Bubble Liquidation. There's nothing too fancy about the core, though will say Intimdate support is appreciated to give Porygon2 more TR opportunities and let both these two withstand physical hits. In addition, Porygon2 + Araquanid fairly poorly against strong physical Grass-type Pokemon like Tapu Bulu and Kartana so a Fire-type was needed. As a result of this weakness, everyone's favorite Intimidator Landorus-T...I mean Arcanine was added to 1) combat strong Grass-type foes, and 2) of course, Intimidate support. Since this Arcanine was going to on a support route, mainly wanted it as a pivot to stick around the battlefield for as long as possible to reduce the damage output of the opponent and chip away at them steadly. 



 +  


With my "slow" Trick Room mode of the team well established, I've decided to add a "fast mode" of this core mainly to outspeed most of the VGC 17 format and pick off anything that my TR core hasn't, or vice versa. Decided to add Tapu Koko to "completion" sakes given at this point, the team needed a way to combat opposing Water-types and on occasion for terrain control with my own. For this Tapu Koko, felt like it would be the main "glue" of the team to facilitate the main cores of the team, and pick off any weaken Pokemon in the mid-to-late game. For this reason, the Tapu Koko will have a significant amount of investment with the Assault Vest to pivot around opposing teams and provide its own "support" for the team. Afterward, Kartana made sense as the secondary "fast" mon given its naturally high attack and speed stats to actually sweep unprepared teams if the chance arises. Definitely like AV Tapu Koko and Focus Sash Kartana for their roles to withstand even one hit while cleanly pick off any weaken targets, even so I'd consider leading with these two and having the Trick Room mode in the back.   



 +  


  +

At this point, the team was moderately complete, with the obvious exception of the final sixth slot for the team. There was honestly few mons I can think of for this role, but given how "weak" the team was to certain mons like Snorlax, decided another "heavy" pressure mon was in order. There was little reason not to select Garchomp since 1) it has one of the most threatening Z-Moves in the game with Z-Earthquake, and 2) deals with opposing Arcanine, Tapu Koko, and Alolan Muk rather well while "pressuring" my opponent to respond accordingly. Did forgo the Jolly nature for Adamant with some bulk investment to allow Garchomp to allocate more attack while taking advantage of Trick Room if need be. Honestly yeah.... that's how I "accidentally" ended up using this team. Will admit there are certain mons and cores that I've struggled with, but will leave that towards the end. For those who want to see the type chart synergy of the team,
here's a link
.   
---
The Team

Tapu Koko @ Assault Vest  
Ability: Electric Surge  
Level: 50  
EVs: 236 HP / 4 Def / 4 SpA / 164 SpD / 100 Spe  
Timid Nature  
- Thunderbolt  
- Volt Switch  
- Dazzling Gleam  
- Sky Drop
Milestones
: 
- Lives Rain-boosted Z-Hydro Pump from Golduck.
-Withstands neutral 252 Garchomp's Earthquake
- Outspeeds base 110s and 109s like Gengar, Kartana, and Alolan Ninetales.
- HP Value to take less Hail/Sand/Burn damage.   
Most of the Tapu Koko seen in the VGC 17 format are mostly offensively oriented with either the Focus Sash, Life Orb, Choice Specs, or even either Electrium/Fairium Z. For this specific team, was intrigued by the idea of using Assault Vest Tapu Koko with significant HP and Special Defense investment to withstand some of the common, and even strongest special hits in the format. Assault Vest Tapu Koko played two critical roles for this team 1) pivoting around the opposing team with Volt Switch and 2) to pick off and weaken targets with its two STAB of choice in Thunder Bolt or Dazzling Gleam. The team was in need of additional support against opposing weather-based teams, notably against Rain and Sun-teams.. Thanks to the Assault Vest, Tapu Koko can withstand a Z-Hydro Pump in Rain from Golduck, and an Eruption from Torkoal, which not to mention Electric Terrain deters Sleep Powder / Spore. 

Thunderbolt and Dazzling Gleam are self-explanatory STABs since those are Tapu Koko's best means of offense, even if it lacks Special Attack investment. At the very least Electric Terrain-boosted Thunderbolt and Volt Switch do enough to 2HKO most non bulky neutral targets, considering Tapu Koko isn't meant to pickup immediate OHKOs in the first place. That role is for the other team members listed here, though Tapu Koko can setup these opportunities with the move Sky Drop. Essentially what this move allows Tapu Koko do to is remove one Pokemon from play (provided they aren't too heavy) for at least one turn and deal some damage. The main factor is by removing a certain threat for one turn, this allows one of Tapu Koko's teammates to setup or immediately threaten the other opposing partner. Will explain some of these opportunities the following mons below.  

Kartana @ Focus Sash  
Ability: Beast Boost  
Level: 50  
EVs: 4 HP / 148 Atk / 4 Def / 100 SpD / 252 Spe  
Jolly Nature  
- Leaf Blade  
- Smart Strike  
- Sacred Sword  
- Detect
Milestones
:
- Survives Blizzard from Alolan Ninetales.
- Has a 87.5% chance to OHKO 164 HP / 92 Def Tapu Lele with Smart Strike.
Oh Kartana. Perhaps the literal definition of a glass cannon since it pretty much one. As the second-fastest Pokemon on this team, Kartana cements  the "fast mode" of the team when paired with Tapu Koko considering both at least outspeed threats such as Garchomp and Nihilego with their natural speed stats. The set here is mostly basic though gets the job since Kartana's main role of the team is similar to Tapu Koko: pick off any weaken targets and attempt a sweep via Beast Boosts. Focus Sash allows Kartana to live one fatal blow on 1 HP and at least stick around the same turn to retalitate back with its coverage options. In terms of matchups, Kartana is here to deal with opposing Rain, Sand, or "slow" teams who can't react fast enough against my Grass/Steel-type. STAB Leaf Blade from a base 181 attack threatens opposing Water-, Rock-, Ground-types and even neutral targets with the high critical hit ratio. Smart Strike is mostly there to hit opposing Fairy-types, notable non bulky Tapu Lele, Mimikyu, and Clefairy since Kartana will either OHKO, or inflict major damage. Lastly, Sacred Sword is as important as ever to hit Steel-, Rock-, Dark-, and most notably Normal-types such as Porygon2 and the ever common Curse Snorlax.  (oh Detect is the same as Protect, except less PP but at least Kartana can't lose Protection against an Imprison user). 
Honestly, have thought about replacing Kartana, but the amount of offensive pressure this mon emits is so great, opponents attempt to work around Kart as best the can with proper defensive switching. Even so, Grass/Steel is an amazing type combination with key resistances to Fairy-, Electric-, Normal-, Rock-, Steel-, Psychic-, Grass-, Water- and Dragon-type (literally all its resistances) just so convenient in this format given there's many Pokemon of each type variety mention. Despite the abysmal special defense, at least the high 131 defense stat allows Kartana to withstand a good amount physical attacks, even so with the help of Intimidate Support from Arcanine. At the end of the day, Kartana is a monstrous paper alien who can initiate the offense for my team, or simply wipe out the competition clean cut.   

Porygon2 @ Eviolite  
Ability: Download  
Level: 50  
EVs: 244 HP / 12 Atk / 92 Def / 36 SpA / 124 SpD  
Sassy Nature  
- Ice Beam  
- Return  
- Trick Room  
- Recover
Milestones
:
- OHKOs Garchomp with Download Boosts (+1 Special Attack)
- Withstands Rain-boosted Z-Hydro Pump from Golduck and Z-Earthquake from Chomp.
- Download-boosted Return 2HKO's Tapu Lele and Tapu Koko
With every bath, comes a rubber duck, in this case Porygon2. As the main defensive pivot of the team, Porygon2's is the overall tank who is ready to stick out the battle in the long run and setup Trick Room for its allies. These support and defensive capabilities wouldn't be possible without the Eviolite, which effectively boosts Porygon2's Defense and Special Defense stats by 1.5x. Basically speaking, when you have a Pokemon with high defenses stats and access to Recover, chances are its not going away. Chances are Porygon2 is the mon I'm most certainly sending in from the back to take a fatal hit from any of my other five, and shrug it off easily. Normally I'd wouldn't care much about the Download boosts, but recently decided to pickup the latest trend on Porygon2: Return. Since most players are likely going to raise their mons special defense stats to withstand obviously powerful special attacks or ensure Porygon2 always gets an Attack raise to boost its STAB Return. Though not as strong as STAB +1 Tri Attack, Return at least allows Porygon2 to deal good chip damage against mons with notably frail defenses. 

In short, the Download boosts is meant to raise either the Attack or Special Attack stat so Porygon2 always has something to inflict good chip damage. Chances are Ice Beam will be Porygon2's most used attack to hit opposing Ground-, Grass-, Flying-, and Dragon-types for super effective damage. Recover replenishes Porygon2's lost HP at about 50% HP, which thanks to its Eviolite boosted defenses means Porygon2 be around the long run. Finally, we have Trick Room, one of the best speed control options in VGC 17 by reverse the speed orders and allowing some of my "slower" Pokemon to outspeed much faster threats or Scarfers. The key when using Porygon2 is to setup Trick Room at the most "convinient" time, but knowing the opponent cannot stop it with either Roar, Taunt, or even a reverse Trick Room. Thankfully, Arcanine Intimidate Support and Tapu Koko's Sky Drop allows Porygon2 more opportunities to setup its speed control by weakening the damage output of the opponent, or removing a "threatening/disruptive" mon from play. 

In short, Porygon2 is the main nucleus of the team as without its high defenses and Trick Room support this team will surely fall to at times. This duck is so incredibly bulky that its likely going to be sent in the front line to tank a hit, recover off the damage, and slowly chip done my opponent. Do note Porygon2 isn't meant to OHKO things (except Garchomp/Salamence), however the goal is to setup Trick Room when appropriate and weaken the opposition enough for my other mons can finish them off. If it needs to, Porygon2 can net faint, but usually its when the foe is at low HP or its the late game where P2 beat the 2v1 mons who can't harm/distupt it back. Do have to worry about Porygon2's offensive pressure my opponent will most certainly outspeed Porygon2 to double target it, or its partner down. Porygon2 essentially thrives when it can setup Trick Room for its allies and/or be able to win matchups where my opponent's cannot penetrate its defense and win from there. 

PS: Ducks are Animekillers

Araquanid @ Waterium Z  
Ability: Water Bubble  
Level: 50  
EVs: 252 HP / 244 Atk / 4 Def / 4 SpD / 4 Spe  
Adamant Nature  
- Liquidation  
- Bug Bite  
- Toxic  
- Protect  
Milestones:
- Z-Liquidation OHKOs a plethora of things like Celesteela, Garchomp, Tapu Koko/Lele, etc
- HP Value to reduce Hail / Sand Damage. 
Here we have honestly one of the best Water-types Pokemon to ever grace the VGC format: Water Bubble Araquanid. Seriously even with a base 70 Attack stat, Araquanid can almost 2HKO most of the format with Water Bubble-boosted Liquidations effortlessly. Since Araquanid has a pitiful base 42 speed, it can make use of Porygon2's Trick Room support handily to pressure the opponent with either Liquadtion or its Z-Move variant. Speaking of which, Z-Liquidation is almost over kill at time, but definitely strong enough to net a guaranteed OHKO on certain targets, provided they don't Protect. While Araquanid might not have an insanely high attack stat, it certainly does have a good Defense and high Special Defense stat meaning water spider can surely tank a couple strong hits before it goes down. Aside Liquidation and Protect, the last two slots are generally up for grabs quite honestly. For this Araquanid set, decided to go with Bug Bite considering the rising popularity of the
50% berries
on like Snorlax or Alolan Muk, which actually replenishes 50% of water spider's own HP by the same amount. Lastly, Toxic is there to wear down bulky mons such as Gastrodon, Porygon2, Milotic, etc. The status condition also helps Porygon2 "stall" out it opponents with its Eviolite defenses and Recover.
Its important to note Araquanid has to make use of its time on the battlefield, especially during Trick Room since it is one of the main offense of my team. While Araquanid has a seemingly spammable move thanks to its Water Bubble Liquidation, I need to ensure it can stick around long enough to where it Araquanid can at the very least break down opposing teams, or possibly sweep. Do like Water Bubble's additional effects of tank half of a Fire-type move like a resisted hit is helpful when facing Fire-types like Arcanine or Torkoal. Do feel like the EV Spread can be optimized better for at least some speed creep, but so far Araquanid just proves itself as a strong bulky attack who can overwhelm unprepared teams. 

Arcanine @ Aguav Berry  
Ability: Intimidate  
Level: 50  
EVs: 252 HP / 100 Def / 156 SpD  
Impish Nature  
- Flare Blitz  
- Snarl  
- Will-O-Wisp  
- Helping Hand
Milestones:
- Neutral 252 Garchomp's Earthquake is a 4HKO after Intimidate. 
- Has a 15/16th chance to withstand Modest Life Orb Tapu Lele's Psychic
- Withstands a -1 Liquidation from Araquanid.
Everyone's favorite Woofer is here: Arcanine. At the time, most Arcanine sets have switch to being a physically offensive variant, however this Arcanine remains as the designated support pupper for this team with decent investment into it HP, Defense, and Special Defense. The main objective of this Arcanine is to limit the damage output of the opposing team as best as possible thru the combination of either Will-O-Wisp to burn physical attackers, Snarl to drop both mons special attack by one stage, and most importantly Intimidate. Thanks to its Intimdiate ability, Arcanine can switch in and drop the attack stats of both target by one stage, which is often enough to allow certain mons like Tapu Koko, or Porygon2 easily withstand. Aguav Berry is selected to give Arcanine "more" recovery from that of Sitrus Berry, however do note Arcanine's HP needs to hit below 25% and not faint in order to replenish health.
Honestly this Arcanine can easily be "special" but decided to have a strong Fire-type STAB in Flare Blitz over something like Burn Out or Flamethrower for a couple reasons. First off, Arcanine needs a relatively strong Fire-type STAB capable of threatening targets without being in a "Snarl" war against opposing Arcanine or other Snarl users. Second, despite "losing" HP from recoil damage this can sometimes allow Arcanine's Aguav Berry to trigger and replenish 50% of its HP to be much healthier than it was the previous turn. Finally, most of Arcanine's Fire-type moves, don't appeal to me to be frank, since Flamethrower is still weak, Overheat drops your Special Attack, and Burn Out forces Arcanine to run a "secondary" Fire-STAB, if I ever want to use it. 
Originally, Arcanine had Roar to combat setup-based and "hard" Trick Room teams, though decide to explore another neat support option: Helping Hand. Through its +7 priority, Helping Hand allows Arcanine to boost one of its allies attack to which it can hopefully net an OHKO through this combination. This is one of the reasons why I'd typically don't have to worry much about the damage output of some of my mons as Helping Hand gives most of my Pokemon an extra boost in power. Thanks to its high priority, Arcanine can used this as a last resort before it faints to power up one of my Pokemon's attack such as Z-Liquidation from Araquanid or Z-Earthquake from Garchomp. Here are some damage calculations showcasing Helping Hand's usefulness. 

Garchomp @ Groundium Z  
Ability: Rough Skin  
Level: 50  
EVs: 60 HP / 76 Atk / 4 Def / 148 SpD / 220 Spe  
Adamant Nature  
- Earthquake  
- Rock Slide  
- Swords Dance  
- Protect
Milestones:
-Outspeeds threats such as Gyarados, Xurkitree, and Arcanine (non-positive speed) by a couple points.
- Timid Tapu Koko has a low chance to 2HKO Garchomp
- HP Value to reduce hail/burn damage
- Dumped Special Defense to withstand Ice Beam from non-boosted Porygon2.
At this point, Garchomp was a splashable mon to fit on this team thanks to its useful resistances and incredible damage output from Z-Earthquake. In terms of how this Garchomp's stats were allocated, decided to forgo some a potential Jolly nature to an Adamant in order to give Garchomp a sizable attack stat, speed benchmark that can take advantage of Trick Room, and decent amount of bulk investment. The main reason for the investment is to give Garchomp opportunities to setup with Sword Dance, which sharply raise Garchomp's attack by two stages and become a immediate offensive threat. If that wasn't enough, Garchomp still has the option to use its Z-Crystal, and effectively nuke non resisted almost Pokemon with Techonic Rage. Perhaps the only drawback using Garchomp on this team is its lack of potential to just freely spam Earthquake without its partner going to Protect, though its only a nitpick. Rock Slide was added here since Ground / Rock is a solid offensive coverage, and can allow Garchomp to potentially flinch down opponents.

Not much to say about Garchomp, though it tremendously helps pressure my opponent's team with the potential Z-Move option and Sword Dance-boosted attacks. Some Pokemon this team struggles against such as Snorlax, Arcanine, Alolan Muk, Tapu Koko, etc are immediate threaten by Garchomp. Do admit the Jolly might come in handy at times, Garchomp can at least be "slow" enough to make use of Trick Room from Porygon2 and hit faster threats like Tapu Koko and Pheromosa back. 
---
IMPORTABLE & Final thoughts
So that's the team. Been using variations of this team for the past week now and its honestly one of my favorite teams to use so far in the VGC 17 format. Do think there are some issues like the lack of immediate offense without the use of Z-Moves or Helping Hand support. Will admit this team relies heavily on getting nessesary chip damage in order to make use of its offensive threats like Garchomp, Kartana, or Araquanid, hence why I didn't list down additional Damage Calculations. Will clarify things and take any considerations to improve this team. With that said, hope you all enjoy.