(VGC 2017) Snorlax - Physical Attacker - 3 Options
Deviant Art by
ishmam
"ZZZ.... ZZZZ.... ZZZZ.... "
For the longest of time, Snorlax was seen as rather "slow" in the VGC scene only having some small bursts here and there. Like its natural behavior, Snorlax exhibits a high HP stat of about 160 and notable Attack and Special Defense of 110 respectively. Aside the rather strong special defensive and passable Attack stat, Snorlax is incredibly slow with a base speed of 30, thus most Pokemon can easily outpace this bear. Traditionally, Thick Fat was the preferred ability to reduce the damage of Ice- and Fire-type Pokemon by about 50% as Immunity and Gluttony aren't consistent abilities in competitive play prior. Despite having a strong movepool like all Normal-types, Snorlax had lack the firepower and long-term longevity necessary to compete against most Pokemon, until Gen 7.
With the introduction of new Z-Move mechanics, and buffs in new restoration berries, Snorlax has found new light in the VGC scene. Starting with the Z-Move options, Snorlax now has a strong niche as a terrifying Belly Drum Trick Room sweeper capable of panhandling opposing teams with +6 boosted attacks. If that wasn't the case, Z-Belly Drum is "Taunt-proof", and can fully replenish any damage before the actual HP cost is taken, thus ensuring the Normal-type can at least setup. Thanks to the new mechanics in the "50% Berries" such as Figy Berry, Snorlax can essentially have 50% extra HP with Glutton, thus allowing it to tank some strong STAB and even Z-Moves. The new Gluttony + 50% Berry combination allows Snorlax to stick around the field for longer than usual to attack its foes or setup. Perhaps one of Snorlax's best niche in this format is the role of an "Anti-TR" option thanks to its slow speed and setup potential with Curse or Belly Drum.
Though Snorlax has caught up with its competition, it still has some notable flaws. Despite the lack of Fighting-types, they alongside respectively Fighting-type coverage can pressure Snorlax's rather low Defense stats with the potential OHKO. Due to Snorlax's base 30 speed, it will most likely go last in battle order, thus giving the opponent time to either deal massive damage or overwhelm it with constant strong attacks or Z-Moves. Even so, the lack of resistances from Snorlax aside Ghost (or from non-Thick Fat variants), make it slightly easier to OHKO with standard metagame Pokemon like Tapu Koko, Garchomp or Tapu Lele.
Despite these flaws, Snorlax has a strong niche in the VGC 17 as a bulky attacker thanks to its high HP, alongside new items and setup potential it can do. Keep in mind, Snorlax has a rather high special defense stat and easily tank most non-threatening STAB special hits in the format with little to no ease. Give most of the common VGC 17 Pokemon having low defenses and teams having lack of "Normal-type" resistances/immunities aside Steel-, Rock-, and Ghost-types, this makes Snorlax a rather strong Pokemon to use in the early format.  
---

Snorlax

Type:

Base Stats:
 160 HP / 110 Attack / 65 Defense /  65 Special Attack / 110 Special Defense / 30 Speed
Weaknesses:

 x2
Resistances:
None / 

 x0.5 

 x0.5 (
Thick Fat
)
Immunities:

x0
Ability 1: Immunity -
 The user can't be status with the Poison condition.
Ability 2: Thick Fat - 
Halves the damage of Fire- and Ice-type attacks. 
Hidden Ability: Gluttony
- Can consume Berries at 50% or below at an earlier time.  
---
Curse Setup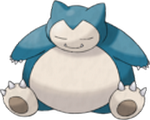 Snorlax @ Figy Berry  
Ability: Gluttony  
Level: 50  
EVs: 68 HP / 196 Atk / 244 Def  
Brave Nature  
IVs: 0 Spe  
- Return
- High Horsepower  
- Curse  
- Protect / Recycle
Milestones
:
- Popularized by
Yejiang_CHN
and
13Yoshi37
.
- Takes Aranquanid's Z-Liquidation 15/16th of the time.
- Underspeeds Torkoal by 1 point speed after Curse.
- Takes several Z-Moves with the help of the Figy Berry.
- Can tank many strong physical hits after one Curse.
- Can "Replenish HP" with Figy Berry + Gluttony recovery.
Thanks to the new mechanics in Self-Restoration Berries such as the Figy Berry, Snorlax has some rather interesting options to play around with now. To elaborate, Gluttony allows for the early use of certain Berries such as Liechi Berry 25% to 50% HP benchmark from the user. The last important factor to this is the new berry mechanics for Figy Berry and other similar Berries as all of them now replenish 50% of the total HP stat, if the user's HP is at 25% or below. With the new Figy Berry + Gluttony combination, Snorlax can now heal 50% of its HP back from taking some prior damage, though oftentimes above the original amount. As a result of this new combination mechanic, Snorlax attack its opponents almost freely knowing it will get back back to near full HP, or use the time to setup Curse. 
One of Snorlax's ways to alleviate its low defense stat is Curse by raising both its Attack and Defense stats by one stage, though at the seemingly "free" cost of lowering its pathetic speed stat. In fact, Curse Snorlax is one of the best "Anti-Trick Room" checks in the format since after one Curse, Snorlax is "faster" or slower than Eruption Torkoal in Trick Room, thus making it a strong offensive threat. If Snorlax can setup Curse's freely against opposing teams without any strong "nukes", Z-move options, or anti-setup strategies like Taunt/Roar, chances are Snorlax can be used as a vital win condition against opposing teams. 
For attacking options, Snorlax doesn't need much coverage such as against potential Ghost / Ground-types and maybe some Steel-types since the goal is to setup with Curse anyways. Nothing can't go wrong with STAB Return (or Frustration), as a base 102 attack with Curse setup can 2HKO opposing Pokemon who aren't resistant to Normal STAB like Rock-, Steel-, or Ghost-type. In that case, Snorlax actually learned a new Ground-type move called High Horsepower which is arguably "better" than Earthquake since 1) its not affected by Grassy Terrain, deals single-target damage, and 3) inflict more damage unto Fire-, Rock-, Electric-, Poison-, and Steel-type Pokemon than Earthquake from spread damage. 
The last move is an interesting topic for discussion arguments for having either Protect or Recycle. As everyone knows, Protect is a great "scout" move that allows the user to avoid any harm, status conditions, etc for at least one turn. This can be helpful if Snorlax is being "Double Targeted" down after getting a Curse setup so its other partner can knock or deal damage to one of the foes. Recycle is a interesting choice, but it allows Snorlax to essentially finally have pseudo 50% recovery by replenishing half the user's HP with reused Figy Berries (or others similar...also hence the name "Recycle"). The only issues this are Snorlax has to be about below 50% HP to activate the Figy Berry and can't use Recycle anymore if Knock Off. 
Here's a list of Damage Calcs below regarding Figy Berry Snorlax from its offensive attacks to defensive benchmarks:
Offensive Calcs
Defensive Calcs
---
Z-Belly Drum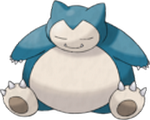 Snorlax @ Normalium Z  
Ability: Thick Fat  
Level: 50  
EVs: 156 HP / 4 Atk / 244 Def / 100 SpD  
Brave Nature  
IVs: 0 Spe  
- Return  
- Rock Slide / Earthquake  
- Belly Drum  
- Protect
Milestones:
- OHKOs most Pokemon at +6 with Return + Rock Slide / Eartquake.
- Take a Modest Z-Psychic from Tapu Lele in Psychic Terrain 
- Reduce Sand/Hail damage with HP Value.
- Note: Has 4 missing Evs due to TR Nature Brave.
Following the introductions to Z-moves, Z-Belly Drum is one of the strongest setup options in the format for Snorlax, especially with some new interesting new mechanics. Essentially Snorlax can now take hits below the 50% range where a Belly Drum user will normally need to setup, since when the use activates Z-Belly Drum, it restores the user's entire HP! This means now if Snorlax can take a double target or a strong attack below the 50% mark, when it uses Z-Belly Drum all its HP will "replenish" but half will be used up again for the setup. Even so, Z-Belly Drum cannot be "taunted", thus meaning Snorlax can setup on common users like say. Tapu Koko, Tapu Lele, Aerodactyl, etc Once its attack stats are maximized, Snorlax can pretty much 2HKO or OHKO the entire VGC 17 format with little effort using the combination of STAB Return, Rock Slide, or Earthquake. 
In order to ensure the Z-Belly Drum sweep goes into effect, attempt to pair Snorlax with Trick Room Pokemon such as Oranguru, Comfey, or Mimikyu as they all have their own respectively support options for Snorlax. Under Trick Room, Snorlax is one of the "fastest" Pokemon thanks to its slow base 30 speed and can hit whatever targets the user finds threatening for the Trick Room Belly Drum sweep. Intimidate and Snarl support is appreciated as Snorlax lacks the high base defense stat or the Figy Berry at least to take strong STAB hits better. If Snorlax is using Z-Belly Drum, Thick Fat will certainly be the preferred ability as it helps the slow Normal-type setup against Fire- and Ice-type Pokemon better.   
To see how strong +6 4 Atk+ Snorlax hits, look at some of the damage calculations featured below against some of the bulkier Pokemon in the format:
Offensive Calcs:
---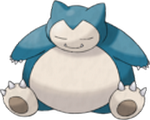 Snorlax @ Assault Vest  
Ability: Thick Fat  
Level: 50  
EVs: 28 HP / 196 Atk / 252 Def / 28 SpD / 4 Spe  
Adamant Nature  
- Return / Facade
- High Horsepower  
- Heavy Slam  
- Wild Charge
Milestones
:
- Tanks most Special hits extremely well as 3HKOs at least.
- Takes one High Jump Kick from Adamant Pheromosa after Intimidate.
- Neither Z-Earthquake from Garchomp, Z-Psychic from Lele, or Z-Hydro Pump in rain from Golduck OHKO AV Snorlax.
- Full Power Sun-boosted Eruption from Torkoal is a 6HKO.
Takes less Hail/Sand Damage due to HP Value.
- Note: Can have Brave Nature with 0 IVs.
With Snorlax's rather large HP and noticeable Special Defense stat, Snorlax is an excellent candidate for the Assault Vest item. Thanks to the Assault Vest, Snorlax can take special attacks better than before and can be used as a special pivot. In fact, since Snorlax isn't running Gluttony as the ability of choice, Thick Fat is viable here to further reduce the damage of Fire- and Ice-type type attacks, especially from the likes of Drought Torkoal and Snow Warning Ninetales. Without any status moves, Snorlax has to rely on its coverage options to deal damage to its enemies, which thankfully is threatening enough to use. For Normal-type STAB, Return can be used to hit opposing Pokemon for decent damage, and even 2HKO most frail Pokemon. Facade is a rather risk-reward Normal-type attack which can be beneficial if Snorlax gets burn, paralyzed, or poison. High Horsepower is Snorlax's single-target Ground-type moves which allows it to hit opposing Steel-, Ground-, and Rock-type Pokemon. Heavy Slam is a interesting Steel-type move Snorlax can abuse thanks to its extreme heavy weight to either 2HKO or OHKO many of the common Rock-, Fairy-, and Ice-type Pokemon in  the format. Lastly Wild Charge is opted as a last resort move for Flying-types, notably against Pelipper, Gyarados, and Celesteela. 
Offensive Calcs:
Defensive Calcs
---
Potential Teammates
include, but aren't limited to:
Fairy-types

 - Snorlax needs support of strong Fairy-type Pokemon such as

Tapu Fini, Mimikyu, Tapu Koko, Clefable/Clefairy,

and

Tapu Lele

to at least hold off strong Fighting-types that threaten it. Having at least one of these Pokemon as a resistance can be beneficial. 


Psychic-types

- Similarly, Psychic-type Pokemon are capable of holding off Fighting-type Pokemon which threaten Porygon-Z. Such Pokemon include

Tapu Lele, Metagross, Alakazam,

etc.


Fighting-type Resistances: 

Having a Fighting-type resistance from either

Bug-, Fairy-, Flying-, or Psychic-type

 Pokemon can be valuable switch ins for Snorlax.


Intimidate Support -

Despite the large HP stat, Snorlax still needs Intimidate Pokemon like 

Arcanine, Gyarados, Krookodile, Salamence,

etc to mitigate physical damage.


Trick Room

- Given Snorlax's rather slow speed stat,

Trick Room

setters such as

Porygon2, Mimikyu, Comfey, Oranguru

, etc are great partners as well to ensure it can attack first. 

Threats
include, but aren't limited to:
Fighting-types and Fighting Coverage

 - Pheromosa, Buzzhole, Hariyama, etc 


Intimidate Spam -

Arcanine, Gyarados, Krookodile, etc


Powerful STABs / Z-Move Attacks




Roar / Haze 

to remove stat boosts


Burn Status

 for non-Facade variants

Other Notable Options
Chople Berry

can reduce the damage of Fighting-type attack on Snorlax.

A pair combination with Pheromosa using

Speed Swap

with

Z-Belly Drum

is appealing, though has a huge risk factor.


Choice Band

Snorlax is largely unexlored, but has potential with its coverage options. 


Belly Drum

can be used over Curse on the Figy Berry setup for sweeping and potential self-sustain.

---
Alright that's all folks. Going to sleep.... ZZZt