Introduced in Sun and Moon, Buzzwole has made its mark in the metagame as one of the premier wallbreakers and set up sweepers in the metagame. With a high base 139 attack, subpar 79 speed and 107/139/53 bulk, Buzzwole can certainly dish out devastating hits while sponging lots of physical attacks but not so many special attacks. This Pokemon carries the Bug/Fighting typing with a wider movepool than Heracross and Pheromosa with options such as Ice Punch, Thunderpunch, Stone Edge, Earthquake, Superpower and the newly buffed Leech Life. But in spite of all this good stuff, Buzzwole is still in an awkward speed tier at base 79 making it too fast for Trick Room and too slow to run in a race of base 80+ speed Pokemon; not to mention this metagame is very Fairy heavy with the Tapus and the other Ultra Beasts certainly give it a run for its money.
---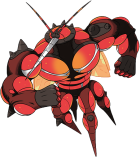 Type:





Base Stats:

107 HP / 139 Attack / 139 Defense / 53 Sp.Atk. / 53 Sp.Def. / 79 Speed


Weaknesses:




Resistances:








Immunities:

N/A
Abilities:
Beast Boost:



Increases the user's highest stat (ignoring the HP stat) by one stage after knocking out a Pokémon. It does not take into account any modifiers caused by status conditions, items, or moves, except Power Split and Guard Split. In the case of a tie, it will boost whichever stat is first, using the following order: Attack, Defense, Special Attack, Special Defense, and Speed.

---
Life Orb Buzzwole [Smogon]
The Moth (Buzzwole) @ Life Orb
Ability: Beast Boost
EVs: 252 Atk / 4 SpD / 252 Spe
Jolly Nature
- Superpower
- Leech Life
- Ice Punch
- Poison Jab
Life Orb Buzzwole is generally what you want to be running in the current OU metagame due to how hard it hits without the need of setting up with Bulk Up. Superpower is Buzzwole's most reliable damaging Fighting STAB and the attack drop is negated by Beast Boost provided you knock out the opponent. Leech Life allows Buzzwole to sustain itself making it a superior option over Lunge that only drops the opponent's attack stat by one stage. Ice Punch is key for hitting Landorus-Therian, Garchomp and Gliscor, however, the move extends to hitting other threats in the tier such as Mandibuzz, Dhelmise, Togekiss and Mega Pinsir (predicting it to switch in). Poison Jab is your go to Fairy killer and with the speed EVs invested here, you are able to outspeed Tapu Bulu and Tapu Fini to pick up the KO
Damage Calculations
:
Offensive
Life Orb Buzzwole [VGC]
Buzzwole @ Life Orb
Ability: Beast Boost
Level: 50
EVs: 252 Atk / 20 SpD / 236 Spe
Adamant Nature
IVs: 25 HP
- Poison Jab
- Protect
- Superpower
- Ice Punch
236 Speed EVs allow Buzzwole to outspeed max speed Jolly Tapu Bulu by 1 point and KO it with Poison Jab. Poison Jab is for Fairies, Superpower for a reliable STAB option and Ice Punch to OHKO Garchomp and Salamence. A majority of the time you'll be clicking Superpower with this Pokemon as Buzzwole's role is to snipe all Trick Room based Pokemon except the fire types, Marowak and Torkoal
Damage Calculations
:
Offensive
OTHER OPTIONS

(credit to @"Elly")

:
---
Potential Teammates
include, but aren't limited to;
VoltTurn cores

- Pokemon such as Tapu Koko, Landorus-Therian, Tsureena and Alolan Raichu are able to pivot with U-turn and bring Buzzwole in safely. Also VoltTurn chips down the opponent making it easier for Buzzwole to pick them off



Rain

- Pelipper, Kingdra, Kabutops, you name it! Buzzwole synergizes immaculately with rain as the weather cancels out its weakness to Fire plus rain modes apply sufficient pressure on the opponent making it easier to bring in Buzzwole and deal some damage. Buzzwole has the ability to take on rain counters such as Ferrothorn and Shiinotic making it easier for the mode to thrive



Dark and Psychic types

- Alolan Raichu, Weavile, Mega Absol, Oranguru, Tapu Lele, all are good options for creating an offensive Fighting/Dark/Psychic core



Hazard Support and Hazard Stackers

- Tentacruel, Tsureena, Starmie and Excadrill all synergize with Buzzwole as they are able to remove entry hazards that hinder Buzzwole from functioning effectively. Special note is made to Rapid Spinners because Buzzwole works best with hazard stacking teams as hazards make it easier for Buzzwole to pick up KOs. Skarmory, Roserade, Klefki and Greninja are all good partners for Buzzwole



Specially Defensive Pokemon and Resistances

- Chansey, Tapu-Lele, Rotom-Wash, Magnezone and Mega Metagross are solid options for this role as they all apply necessary offensive pressure, provide Volt Switch and can deal with Poison, Flying and Steel types who hinder Buzzwole's offensive capabilties

---
Threats
include, but aren't limited to;
Tapus

- Tapu Lele, Tapu Fini and Tapu Koko all give Buzzwole trouble as they outspeed or wall it making it easy for them to KO Buzzwole or force it to switch which throws off your momentum



Fire, Flying, Psychic and Fairy types

- This is pretty much a given as these are all the types that Buzzwole are weak to. Charizard-X, Arcanine and Marowak-A exert pressure where Charizard outspeeds and OHKOs Buzzwole with Flare Blitz, Arcanine can burn it or easy go for Burn Up to take it out and Marowak is definitely taking an Earthquake unless a damage boosting item is being held. Celesteela and Mega Pinsir wall out Buzzwole unless it runs Thunder Punch but even then it isn't OHKOing and Celesteela will knock it out with Air Slash or Flamethrower 100% of the time. Pinsir's Aerilate completely shuts down Buzzwole. Any Psychic type which outspeed Buzzwole is a threat so Mega Alakazam and Tapu Lele; same for Fairy types in Tapu Lele, Ribombee and Tapu Koko

---
Other Notable Moves
Thunder Punch - It hits Celesteela more reliably than Superpower

Stone Edge - Fighting + Rock coverage covers a lot of the metagame and Rock coverage deals with the majority of Flying types in the tier

Substitute - With Buzzwole's bulk, Substitute allows it to take a hit and possibly have the Substitute not break. Also helps with stopping Intimidate stat drops and getting more advantageous matchups

Bulk Up - Boost Buzzwole's already insane attack and defense stats to make it hit like a truck and pick up more OHKOs

Focus Punch - While rather gimmicky, in combination with Substitute, it can do severe damage and it is stronger than Superpower

Dynamic Punch - Very unreliable but when it hits it can confuse the opponent. Not as good this generation due to confusion being a 33% chance for the opponent to hit themself

Taunt - Allows Buzzwole to stop Defoggers, hazard setters and set up sweepers from taking charge. It also helps Buzzwole in acting as a stallbreaker

Roost - Gives Buzzwole more reliable recovery but he generally can't fit this into a moveset

---
Other Notable Items
Assault Vest - Makes Buzzwole survive Special Attacks better and can make it a makeshift tank in combination with Leech Life's recovery

Fightinium Z - In tandem with Focus Punch, you get a base 200 damaging Z move which is sure to destroy anything that doesn't resist

Leftovers - Works well alongside Substitute for longevity and more Substitute setups

---
Thank you all once again for reading this post. Comment down below what you think about the sets, how effective have they been in your teambuilding or what other fun sets you can come up with! As a special treat, I will provide a sample team for each of the sets!
Life Orb Buzzwole [Smogon] Team:
Life Orb Buzzwole [VGC] Team:
Credit to @
Black117
for his Milotic set which can be found
here
[Insert signature here]