Note: This thread will be about the Pokébank OU metagame, as Pokébank is coming in less than a month, and doing the thread all over again would be annoying.
Hey everyone, this thread will show you guys the metagame's threats, including Pokémon and team archetypes that are common and that you should consider when making OU teams. I will also include links to builds for specific Pokémon and sample sets for the Pokémon I talk about. Let's get right into it!
Pokémon
The Boys are Back (Old Pokémon)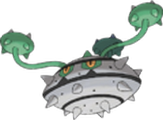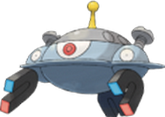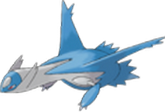 A lot of Pokémon from OR/AS OU are back in S/M OU, and most of them still do the same thing as always. A good example of something that didn't change is Ferrothorn; it still sets up Stealth Rock and Spikes, it is still annoying with Leech Seed and Protect, and it still has impressive defensives capabilities. While Sun and Moon brought a lot of threats to Ferrothorn, such as Buzzwole and Pheromosa, it also introduced a lot of Fairy types, like the Tapus, ans Ferrothorn's typing allows it to deal with those, making it an excellent Pokémon in OU for another generation.
Another Pokémon which still has the same role in Sun/Moon is Magnezone, but it's so much better in the current metagame; while it is mostly used to trap and KO Steel types, such as Scizor, Ferrothorn and Celesteela, just like in Gen 6, it is now also very useful since it helps checking the Tapus, which are very common, because of its combination of decent bulk and typing that gives it some key resistances, such as Fairy, Psychic, Dragon, and more. It is also very powerful; base 130 Special Attack is nothing to laugh at, and most things don't like to take Specs-boosted Thunderbolts and Flash Cannons. Overall, Magnezone was always a good Pokémon, and it's even better in the current metagame due to the plethora of Steel and Fairy types running around.
Finally, the most popular Pokémon in OR/AS OU is back, and its still as good as ever; Landorus-T is still a fantastic Pokémon. The Rocky Helmet set is still an excellent set due to its good bulk and ability in Intimidate, and it's still one of the best Stealth Rock user. The Scarf set is still a very good glue for bulky offense teams, being both strong and bulky while being able to gain momentum easily with U-Turn. Furthermore, it still has a few other options, like Swords Dance and Double Dance. It can even run Flyinium Z with Fly to get a powerful Supersonic Skystrike, allowing it to get past things such as Tangrowth which would otherwise stop it. Overall, it is still a top tier threat like it always was, and it would be dumb to make a guide on OU threats without talking about good old Lando.
Overall, a lot of the Pokémon that were used in OR/AS OU are still being used a lot; Garchomp, Kyurem-Black, Keldeo, Latios and others are still very good Pokémon and, while some of them are still fairly common and some of them have been a bit more forgotten, you definitely shouldn't forget about them (especially when building teams).
Sample sets:
Back from Ubers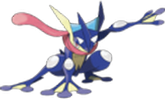 At the beginning of the generation, some Pokémon that were previously banned were released back into the tier, and they all had an impact on the tier in their own ways.
Mega Sableye is a very threatening Pokémon; while it isn't a fast Pokémon like Pheromosa or a strong wallbreaker like Tapu Lele, it has excellent defenses along with a grea defensive typing that grants it three immunites and a few resistances. Furthermore, it has an outstanding support movepool, including moves such as Fake Out, Foul Play, Knock Off, Will-O-Wisp, Toxic, Thunder Wave, Recover and Calm Mind. And, as if that wasn't enough, it has an amazing ability in Magic Bounce, which prevents it from being statused. So you have a very bulky Pokémon with access to an incredible movepool and reliable recovery, and it can't even get statused. It also prevents hazards from the opposing team. It is fairly passive, but it has the tools to be an incredible on bulkier teams, and it's a staple on stall teams, being the glue for these teams during a major part of the generation.
Greninja is a very fast Pokémon, outspeeding a lot of big threats in OU, namely Latios and Dugtrio, and it has access to Protean, an ability that allows it to change its typing when using different moves, which basically gives it a STAB boost on literally EVERY move. Couple that with an impressively deep movepool, including options such as Gunk Shot, Grass Knot, Dark Pulse, Water Shuriken, Extrasensory, Low Kick and U-Turn, and good Attack and Special Attack, it is a big offensive threat for most teams. It even has access to Spikes and Toxic Spikes, to be able to fill the role of a suicide lead. Furthermore, Sun/Moon introduced the ability Battle Bond; when Greninja gets a KO, it transforms into Ash-Greninja, gaining a massive stat boost in Attack, Special Attack and Speed. So not only is it able to outspeed things like Tapu Koko because of its 132 base Speed, it can also pretty much click Hydro Pump and kill something due to that massive 153 base Special Attack. It is seriously one of the strongest Pokémon in the tier, and every team should have at least two checks for this powerhouse.
Genesect is very similar to Greninja in a way; while not as fast, it has strong offensive stats and a very, very impressive offensive movepool; Iron Head, HP Ground, Flamthrower, Thunderbolt, Ice Beam, Blaze Kick, Bug Buzz, U-Turn and Rock Polish are all very viable options on this incredibly versatile Pokémon. Because of this, it can also abuse various items, such as Life Orb, Choice Scarf, Choice Specs and Choice Band. Its typing is also very good both offensively and defensively, having only one weakness, Fire, and being able to kill the very common Fairy types with its STAB Steel moves. It is very unpredictable, and it can dismantle defensive cores since they often can't handle Genesect very well due to the very vast amount of possible coverage moves it has, allowing it to deal with a plethora of threats. It also has a good ability in Download, giving it a free Choice Band/Specs each time it comes it, making it even more powerful. It is currently being suspect tested by Smogon for the reasons I mentioned, so I can't guarantee that it will stay in the tier for that long.
Hoopa Unbound is the definition of raw power: it has access to a 160 base Attack, 170 base Special Attack and also a decent base 80 Speed stat, which makes it one of the scariest wallbreaker/stallbreaker in the tier. With a great movepool giving it strong options such as Hyperspace Fury, Zen Headbutt, Drain Punch, Gunk Shot, Fire Punch, Psychic, Psyshock, Dark Pulse, Thunderbolt and Focus Blast, allowing it to OHKO or 2HKO a good part of the metagame. It also has decent HP (base 80) and very good Special Defense (base 130), allowing it to tank very strong special attacks such as Draco Meteor from a Life Orb Latios, although it has a mediocre Defense stat and a pretty average defensive typing. Overall, it is a very threatening Pokémon to all bulkier teams and you should always consider it while building your teams.
Sample sets:
Buffed Pokémon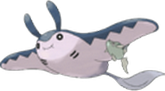 A lot of Pokémon got access to new tools to make them better, making them a lot more viable in the current metagame.
Pelipper was one of the biggest surprise of the generation; because it gained access to Drizzle, it went from a Pokémon in the PU tier (the lowest Smogon tier, for the Pokémon with the lowest usage) to a fairly common Pokémon in OU (the highest tier, for the Pokémon with the highest usage). While it doesn't have outstanding stats, its only good stats being Defense and Special Attack, it is still a pretty good support Pokémon; while its ability to summon rain is its main selling point, it also has a pretty good support movepool with U-Turn, allowing it to keep momentum, Knock Off and Defog, and it also has decent offensive presence with rain-boosted Scald and 100% accurate Hurricane. One of its greatest feature is its access to reliable recovery in Roost, which in mostly why it outclasses Politoed as a rain setter, Politoed's only form of recovery being Rest. So while Pelipper isn't a top tier threat by any means, it's still a great weather setter and it is one of the main factors that allowed rain to be more viable this gen.
Greninja was already an excellent Pokémon; great ability in Protean, access to a ton of different coverage moves, access to hazards, great Speed and mixed offenses, you already know. But, as if it wasn't powerful enough, Sun and Moon introduced a new possible ability for Greninja: Battle Bond. So not only is it able to outspeed things like Tapu Koko because of its 132 base Speed, it can also pretty much click Hydro Pump and kill something due to that massive 153 base Special Attack. Now even without Protean, getting a KO to activate Battle Bond is extremely easy with Greninja's very good base 122 Speed, so spamming U-Turn with your team until something gets low enough for Hydro Pump is a very easy and efficient way to activate it. It can abuse various items, but Choice Specs is the most common set because of its ability to 2HKO most of the tier. It can 2HKO a Sp Def invested Toxapex after a bit of chip damage with a Specs rain-boosted Hydro Pump, which is simply ridiculous. So they pretty much took a top tier Pokémon, and made it even stronger, and this is why you should always watch out for Ash-Greninja.
Mantine, much like Pelipper, was pretty much a forgotten Pokémon; it has incredible Special Defense (140), but all of its other stats are pretty average/bad, and it would get worn down easily due to its Stealth Rock weakness and lack of recovery. But then, in this new generation, Mantine gained access to Roost, which allows it to recover 50% of its HP and thus not get worn down as easily (though it is still vulnerable to status). Its base HP was also buffed, now having a nice base 85 HP to really take advantage of its nice Sp Def. Because of these simple changes, Mantine is actually a pretty good Pokémon in OU since it can check most Water types because of Water Absorb, allowing it to check Keldeo, Volcanion, and most special attackers while also being able to use Defog to support the team. So while it isn't necessarily a top tier Pokémon, it is still a very good Water check, so consider it when teambuilding.
Mega Evolutions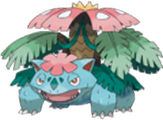 While a lot of Mega Evolutions are still unavailable since some Megastones aren't in the game, they are still quite a few Megas to worry about about.
Mega Metagross is one of the best megas at the moment. It has surprisingly great defenses, boasting a base 150 Defense stat and a base 110 Special Defense along with a decent bse 80 HP. Combined with a decent defensive typing (Steel/Psychic), it can check a lot of common Pokémon in the meta, such as the Tapus, even without defensive investment. Furthermore, it has good Speed (base 110) with a gigantic base 145 Attack stat. And, to make it even stronger, it has access to the ability Tough Claws, boosting its contact moves by 30%, giving it a stupidly strong Meteor Mash and Zen Headbutt. It is also good to mention that it has a good amount of coverage, including moves such as Ice Punch, Thunder Punch, Earthquake, Hammer Arm, Grass Knot, etc. Overall, Mega Metagross is just very strong and bulky, and it is always something to make sure you can check when building teams.
Mega Scizor, much like in OR/AS, is an excellent mega due to its impressive defensive typing (Bug/Fire), having only a weakness to Fire, and stats: 150 base Attack is nothing to laugh at, especially when coupled with the ability Technician and access to Swords Dance. It has incredible defenses, with a base 140 Defense stat and a base 100 Special Defense stat, although it does have a pretty average base 70 HP stat, and reliable recovery in Roost to abuse them for longer. It is also quite slow, but, to patch up this weakness, it has access to priority in Bullet Punch, which is boosted by Technician. It also has access to U-Turn to gain momentum, and some decent coverage in Superpower and Knock Off. Its combination of bulk and typing is very good in the current metagame since it allows Scizor to check most Tapus (except Tapu Lele which blocks priority with Psychic Surge and KOs it with HP Fire) and a lot of others threats in the tier, such as Pheromosa, Latios, and more, making it it a top tier threat in the tier for another generation.
Mega Charizard X is one of my favourite megas at the moment; once it sets up a Dragon Dance, it becomes nearly unstoppable due to its high Attack stat (base 130), decent Speed (base 100) and good STABs that can take advantage of its ability Tough Claws. Dragon/Fire is an excellent offensive typing, having only a few good switch-ins for this STAB combination. Furthermore, it can boosts its Speed and Attack with Dragon Dance, allowing it to completely dismantles offensive teams, which are suddenly getting outsped and can't take any hits, and bulkier teams, which can't do much against a Tough Claws boosted Flare Blitz/Dragon Claw once weakened. It also has reliable recovery in Roost, allowing it to stay alive longer and to shrug off Stealth Rock damage which would otherwise be troublesome. It also has very good Defense; 111 base Defense isn't bad at all, and it can run bulkier sets with Will-O-Wisp to lure in stuff like Landorus-Therian that would otherwise be decent checks. In summary, because of its insane raw power, Charizard X is a powerful late-game sweeper that should always be feared.
Finally, Mega Venusaur is a very interesting Pokémon; it has all around good stats, having decent HP, Attack and Speed and excellent defenses and Special Attack. Grass/Poison is a very good defensive typing, allowing it to take on things like Tapu Koko/Bulu/Fini, Keldeo and Greninja with ease. However, offensively, it is pretty average as it is walled by most Steel types, which are very common in the current metagame. Although it has a few flaws, it is still a great Pokémon at the moment since it can take on some of the tier's most threatening Pokémon and be a generally good sponge with its great defenses and typing, while also being able to dish out a lot of damage on offensive sets. It even gets reliable recovery in Synthesis, allowing it to shrug off damage, making it a great check to stuff like Brave Bird Tapu Koko and Pheromosa who will just end up killing themselves with Life Orb recoil. Overall, Mega Venusaur is a great blanket check for a good part of the metagame, and all teams should be prepared to face it.
Other megas are very viable, like Mega Gyarados, Mega Charizard Y and Mega Alakazam, but I just listed the most common ones. However, don't sleep on the others.
Sample sets:
New Pokémon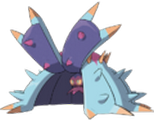 While a lot of new Pokémon gained niches in the tier, some of them are a lot more viable and had a fairly big impact on the tier.
Magearna is an excellent Pokémon at the moment; it has great 80/115/115 bulk along with an excellent defensive typing in Steel/Fairy, allowing it to check big threats such as Tapu Lele. Although it has pretty bad Speed and Attack, it also has an outstanding base 130 Special Attack and a great ability in Soul Heart, giving it a Special Attack boost every time that a Pokémon faints. Magearna also has an impressive movepool, having access to moves like Fleur Cannon (which is basically a Fairy type Draco Meteor
aka nuke
), Flash Cannon, Thunderbolt, Volt Switch, Aura Sphere, Calm Mind, Trick Room and Shift Gear, which makes it a very versatile special attacker that can hit a lot of the tier for super effective damage due to its great coverage. It can run many sets, such as Assault Vest, Choice Specs, Calm Mind, Trick Room (both defensive or offensive) and Shift Gear. Overall, Magearna is a truly incredible Pokémon because of its great defensive and offensive qualities and because its versatility.
Toxapex is one of the greatest defensive Pokémon in the tier; it has a great defensive typing in Water/Poison, allowing it to take on a lot of threats of the tier, such as Keldeo and Charizard Y. While it has very low HP (base 50), it has an absurd base 152 Defense and base 142 Special Defense, allowing it to take all kinds of hits. Furthermore, it has access to Recover to get back automatically 50% of its HP, allowing it to stay alive for quite a while, and to the ability Regenerator, which heals 33% of its HP when switching out. So basically, if you didn't understand that yet, this Pokémon doesn't die and is a great sponge (a Pokémon that can just absorb powerful hits). But, it can also support the team by using Toxic Spikes to chip at the opposing team during the whole match, and it has a few other good support moves such as Haze, Scald (because let's be real, it's only used to fish for burns) and Baneful Bunker, its signature move. Because of all of these reasons, Toxapex is a great defensive Pokémon that is very effective on balance and stall, and every team should have something to hit it with super effective damage, because otherwise, you might struggle to get rid of it.
Alolan Forms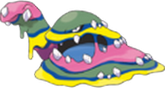 Alolan forms are a very interesting feature of Sun and Moon, adding a little twist to old Pokémon, and a lot of the Pokémon that received a new form benefited a lot from this change. Marowak is probably the Pokémon who received the biggest buff; it got a new typing that gives it a lot of key resistances and strong STABs, such as Flare Blitz and Shadow Bone. Also, it's ability Lightning Rod allows it to check some big threats such as Tapu Koko and Magnezone, which gave it a solid niche in the tier. In the Pokébank meta, it also has access to Stealth Rock, allowing it to support even more. Pokébank brought a lot of threats that made Marowak less viable, but it is still a very good option on teams weak to Electric types. With the Thick Club, it is also very strong, making it a good physical attacker even with its pretty mediocre Speed. Two common sets are the offensive set and the specially defensive set (which is covered
in this thread
).
Another Pokémon who received a major buff is Muk; it gained the Dark typing, which allows it to check big threats such as Tapu Lele and Mega Alakazam when coupled with its excellent special bulk. It also has a lot of good moves, such as Pursuit and Knock Off who can abuse its newly acquired Dark typing, and Shadow Sneak which gives it priority to mitigate its poor Speed. The most common set is the AV set, but it has a few other options (which are all covered
in this thread
).
Other Alolan forms have small niches, like Alolan Ninetales, Raichu and Sandslash, but they didn't really impact the metagame too much, thus why I won't go in depth with those.
Sample sets:
The Ultra Beasts


The most common UBs at the moment are Pheromosa and Celesteela. Pheromosa has incredible Speed and very good Attack and Special Attack but very bad defenses, so it's mostly used as a fast attacker. It has a lot of options, including sets like Choice Band, Choice Specs, Choice Scarf, and many variants of the Life Orb, and it is very unpredictable because of its versatility. However, the most common set at the moment is the Life Orb set, since it is strong and can fully abuse Pheromosa's impressive movepool, including very good moves such as U-Turn, High Jump Kick, Poison Jab, Ice Beam, and more. It is overall very hard to handle because of its Speed, raw power, and movepool, and all team should be prepared to face this monster.
Celesteela, on the other hand, is mostly used as a defensive Pokémon because of it's incredible bulk and access to Leech Seed, allowing it to have semi-reliable recovery. It also has access to good Attack and Special Attack, so offensive sets are very viable while not as common. The most common offensive set is the Autotomize/Leech Seed + 2 Attacks since it patches up its poor Speed and allow it to heal itself up with Leech Seed. On the other hand, the most common defensive is the specially defensive as it can check some of the tier's most threatening special attackers, such as Tapu Lele, but the physically defensive set is just as viable. They both usually run Leftovers, but Shed Shell recently rose in popularity due to Magnezone's usage.




Even though they aren't used as much as Pheromosa and Celesteela, the other UBs are still very potent threats and are all fairly common (except Guzzlord, which is fairly uncommon because of its poor stat distribution). Kartana is a fantastic physical attacker, being able to use Swords Dance to increase its already huge base 181 Attack stat and having a pretty good speed stat at base 109. Grass/Steel is also a fantastic defensive typing, and while it isn't as good offensively, it has a fair amount of coverage to balance it out, with options such as Sacred Sword and Night Slash. It often runs Life Orb and Choicr Scarf, but it also commonly runs things like Fightinium Z.
Buzzwole has very good HP (base 109), Attack (base 139) and Defense (base 139), coupled with a decent Speed stat (base 79), although it has a pathetic Special Defense stat (base 53). It is a very good wallbreaker and it has access to a lot of good coverage options, such as Ice Punch, Poison Jab, and Earthquake. The most common sets are Choice Band and Life Orb, but Sub/Bulk Up and Sub/Focus Punch also have some usage. You can find a few good sets
in this thread
.
Xurkitree has decent Speed and very good Special Attack, while having fairly low defenses. The best set is the Choice Scarf set since it can revenge kill many Pokémon and get a Special Attack Beast Boost, allowing it to quickly get very threatening and even sweep weakened teams. Other options are viable, such as the Z-Hypnosis set and the Shuca Berry + Tail Glow set. A few solid sets can be found
in this thread
.
Finally, Nihilego is an excellent suicide lead (this set is explained in detail
in this thread
), having access to Stealth Rock and Toxic Spikes and being very strong due to its good Special Attack. Mihilego aslo has an impressive base 109 HP and base 131 Special Defense, allowing it to eat up some special hits even without investment. It also commonly runs other sets such as Choice Specs and Choice Scarf to abuse its raw power and good coverage with options usch as HP Ice/Fire, Power Gem, Sludge Wave and Thunderbolt.
Sample sets:
The Tapus




The Tapus are strong legendaries introduced in Sun/Moon, and they are probably the Pokémon that made the biggest difference in the current competitive scene because of one thing that they all have in common; their respective abilities allow them to summon their respective terrains. They all had a big impact on the current metagame, and they all have different side effects that are explained along with the Pokémon themselves.
(All credit for this part goes to @"MudkipLegend", thank you so much!)
Tapu Bulu is a very strong Pokémon, literally everything is going to by 2HKO'd be Wood Hammer. With the ability Grassy Surge, it is able to set up Grassy Terrain when being sent out, which boosts grass type moves, recovers health at the end of each turn, and halves the damage from the moves Earthquake, Bulldoze, and Magnitude. With base 130 Attack, 115 Defense, and 95 Special Defense, Bulu can be run with a variety of items. A few for example are Assault Vest, Leftovers, and Choice Band. The two most common sets that Bulu has to offer is the Sub Seed and Choice Band set. Sub Seed is used with leftovers and the goal is to set up a Substitute and Leech Seed away damage while healing with leftovers and Grassy Terrain. Choice Band is just a nuke that literally will 2HKO everything that isn't Celesteela. Strong moves like Wood Hammer, Stone Edge, Superpower, and Horn Leech are a great way to abuse the power of Tapu Bulu.
Tapu Lele is by far one of the strongest special attackers in the current metagame. With the ability Psychic Surge, Psychic Terrain is set up for 5 turns, boosting Psychic type moves as well as making priority moves fail. Not only does this help Lele's damage output, it also helps it sweep easier. Lele's base 95 Speed isn't necessarily slow, but priority moves such as Sucker Punch can really help nerf it. Lele is run with a variety of items ranging from Life orb, to Choice Specs, to Choice Scarf, to Psychium Z, to Twisted Spoons to even Leftovers. Personally, I've had the most success with the specs set, with base 130 attack a boosted specs psychic is nothing to laugh at. With access to moves such as Moonblast, Energy Ball, Psyshock for special walls, Thunderbolt, Hidden Power Fire, Shadow Ball, and Focus Blast, Tapu Lele is both strong and somewhat unpredictable.
Tapu Koko is a bit strange on paper. It has Base 115 Attack, but its special set is much much better. Not only this but complimented by a base 130 Speed stat puts this Pokémon at 394 Speed at level 100. With the ability Electric Surge, this Pokémon is able to set up electric terrain when being sent out. This powers up electric type moves as well as prevents Pokémon touching the ground from being put to sleep. It can be used many ways benefiting from Choice Scarf, Choice Specs, Life Orb, Focus Sash, Magnet, Electric Plate, Choice Band, and even Air Balloon. Not only this but with a Special Attack stat of 95 and moves such as Volt Switch, Thunderbolt, Dazzling Gleam, Hidden Power Ice, and Grass Knot, this makes Tapu Koko stronger and more useful on the special side. However, physical Koko is nothing to laugh at either. Not only does it benefit from a 115 Attack stat but moves such as U-Turn, Brave Bird, and Wild Charge help its case, and if you don't want to take too much recoil, it also gets access to Roost to recover some health, making this glass cannon much more of a pain to get rid of.
Tapu Fini is honestly great. Water/Fairy is an excellent type and we all know Scald is one of the best moves in the game. However, Misty Surge negates that because of its ability to summon Misty Terrain. Misty terrain prevents any Pokémon touching the ground to be statused, so that means no Scald burns until Telepathy comes out. Now you're probably thinking; "scald iz teh bestest nerd" and while I agree with you, that doesn't make Tapu Fini useless. Calm Mind and Defog make this Pokémon very useful as you can set up all you want without being scared of status moves such as Toxic putting you on a timer. It also gets access to Haze which allows Fini to remove stat changes from opposing Pokémon and help prevent sweeps, as well as Taunt which will help prevent hazard setters get the best of you. With moves to compliment the Calm Mind set such as Surf, Ice Beam, Moonblast, Grass Knot, Shadow Ball, and even Scald for Celesteela, this makes Tapu Fini something that shouldn't be swept under the rug. Oh, did I also mention its base 115 Defense and 130 Special Defense to compliment a 95 Special Attack stat? Think about that next time you don't use Fini because of a lack of Scald burn.
Sample sets:
Team Archetypes
Rain





With the arrival of the new generation, Rain came back as one of the most, if not the most used weather in the tier. First off, Alola gave access to weather-inducing abilities to a bunch of old Pokémon, and Drizzle was surprisingly given to Pelipper, and Pokémon that was previously staying in PU (and also NU for a while). While it doesn't have the best stats, it has access to a surprisingly good support moveset, with moves such as Defog, Knock Off and U-Turn, while also being able to abuse the rain with Scald and Hurricane. It also has access to Roost, and having reliable recovery on a weather set is so nice. On top of having a great weather setter, Gen 7 brought us a lot of new rain abusers: to name a few, Ash-Greninja is an already very strong Pokémon which can use a rain-boosted Hydro Pump to nuke everything in the tier, Tapu Koko can abuse of Thunder because of its perfect accuracy in the rain along with Alolan Raichu, etc. Old rain staples, such as Kingdra, are also still used.
Volt-Turn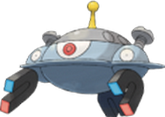 Volt-Turn has always been a very good team archetype in OU, allowing offensive teams to gain momentum very quickly and dealing constant chip damage to the opposing team, and it is still just as good in Sun/Moon. The new game introduced some very fast U-Turn/Volt Switch users, such as Tapu Koko and Pheromosa, that became very common on offensive teams. Bulkier users of these moves, such as Magnezone and Magearna, are also used a lot to switch in on the Pokémon they are supposed to check and then pivot out to keep momentum. Finally, defensive users of the moves are also really common, including Pokémon like Landorus-T.
Stall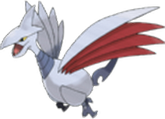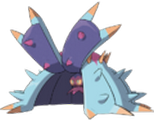 It's back. Nobody wanted stall to be back, but it is. The good ol' Sableye/Shedinja/Dugtrio core is
unfortunately
just as good as it was (this core explained on this thread in
this thread
on Smogon). Chansey/Skarmory is also still as good, not to mention that Toxapex is now also used a lot to sponge hits (like most stall Pokémon lol) and to set up Toxic Spikes to chip away at the opposing team since stall is mostly based on bulky Pokémon using status, then recovering while the opposing team dies from status.
Hope you guys enjoyed this guide on threats in OU, and if you have any questions, feel free to ask them below and I'll do my best to answer them.